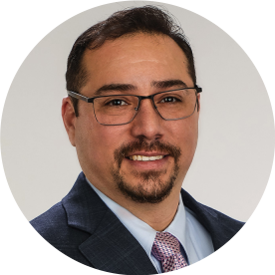 Andres Cook
Mortgage Loan Originator
Office: 770-580-6696, ext.50074
Mobile: (678) 687-9021
Fax: (470) 253-2766
Let's talk about your future home today
HOMESTAR is proud to have Andres Cook as a member of our award-winning team.
Andres shares his expertise as a Mortgage Loan Originator at one of our Gainesville branches located off the square in downtown Gainesville. Andres is dedicated to helping people by making their dream of owning a home a reality. Before working in the mortgage industry, Andres excelled for over 20 years as a manager in one of the nation's largest retail pharmacies. From there, his passion for helping others grew, and he decided to bring his customer service skills to the mortgage industry.
With his desire to provide the best service possible, Andres educates homebuyers about the loan process and helps them determine the right mortgage to fit their lifestyle. Andres is also involved in his community, as he has served as an essential worker during one of the most challenging times in our history. In his free time, Andres is a musician who loves composing and playing music, especially while spending time with his friends and family.
Andres is bilingual and able to serve both English and Spanish clientele. Contact Andres today and let him help get you home!
NMLS #2075917 GA #2075917 AL #82634 FL #LO101338 SC #MLO-2075917 TN #2075917
332 Washington St. NW, Gainesville, GA 30501
Get Directions
Tell me a bit about yourself, and I'll get in touch as soon as I can.
Testimonials
Read why we're a star
IN THE MORTGAGE INDUSTRY

directly from our clients!
Andres was amazing! I had given up hope on buying a home, but he gave me just enough to try him out! He was efficient, communicative, and honest. He also makes sure to make you feel like a friend, not just a client. You seriously couldn't choose anyone better.
The moment we decided to invest in a house, our best main step was originated with Andrés Cook. Everything was driven very professionally. All explained and fulfilled in the early time. Andres is a blessing to the consumer and our community. Bravo
Andres was a great help throughout our whole experience and informational on all angles.
Andres and his team at HOMESTAR were a godsend for my family and me. When other mortgage companies ignored our calls to work on presumably easier cases, Andres and his team were attentive, put in the work, and accomplished the mission. We will always be grateful to the HOMESTAR Team for helping us reach our dream of being farm owners.
Andres was very helpful in every aspect of my homebuying process. Everything was done in a timely manner. His team communicated well and met the deadline with time to spare. Andres was always respectful and professional.
Very happy and grateful to the HOMESTAR team. Very efficient and professional, Andres. I recommend 100%.
Thank you! Thank you! Couldn't have done it without an awesome lender!
Do you have
something to say too?
Leave a testimonial
Let us know how well the mortgage process went for you after discussing your goals and options. Whether you are purchasing or refinancing, we hope your homebuying journey with HOMESTAR was "the easiest way home."