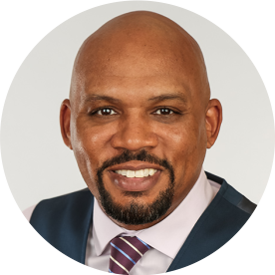 Anthony Rogerson
Mortgage Loan Originator
Office: (678) 359-3574
Mobile: (404) 423-1649
Fax: (866) 644-5577
Let's talk about your future home today
Anthony "A.R." Rogerson has over 25 years of financial services industry experience. He is a retired Wall Street trader who continues to have a passion for servicing his clients, assisting them with making one of the biggest financial commitments of their lives - a home loan!
Anthony's industry experience is a true asset to his clients, as he can analyze the lending process on a macro level and explain it to the everyday homebuyer in its simplest and basic form.
Generally speaking, most buyers share the same concerns: How much of a loan do I qualify for? How much will my mortgage be? What will be my interest rate? There isn't a question about your homebuying process that Anthony is not prepared to answer. He looks forward to speaking with you!
NMLS #1622599 GA #57586 AL #68477 VA #MLO-46933VA
6588 Church St, Douglasville, GA 30134
Get Directions
Tell me a bit about yourself, and I'll get in touch as soon as I can.
Testimonials
Read why we're a star
IN THE MORTGAGE INDUSTRY

directly from our clients!
I enjoyed my experience with HOMESTAR. The loan process was smooth and stress free. Thanks Anthony and all the other people who provided great service for us.
Working with Anthony Rogerson is easy as 1-2-3, a-b-c, a walk in the park, smooth as silk. He is knowledgeable, fast, responsive, efficient and easy to work with. I will definitely choose Anthony & HOMESTAR for my future home loan needs.
I was so grateful to have Mr. Rogerson do my refi along with Mr. Kamari. With me not being the sharpest knife in the drawer when it comes to Technoloy I was glad they both had lots of patience with me. They made sure I understood everything even when they had to literally walk me through step by step. Customer service was impeccable, even with me having to wait from March to December before I could refi to handle the lien. They never made me feel like I was wasting their time and once we got started the process was very easy and simple. And Travin Scott who did my closing was just as courteous and kind. Thanks to the whole team that made my refi possible rather I mentioned your name or not. I had nothing but love and respect shown to me from beginning to end. And yes, I will refer family and friends when the opportunity comes avails itself.
Anthony and HOMESTAR were amazing! He, especially, made our homebuying process way less stressful thanks to his quick and effective communication, along with his amazing personality. He listened to our concerns and wants during the entire process, and we had no doubt he had our best interests in mind when handling things. We definitely trust him and would highly recommend him to anyone wanting to purchase!
Do you have
something to say too?
Leave a testimonial
Let us know how well the mortgage process went for you after discussing your goals and options. Whether you are purchasing or refinancing, we hope your homebuying journey with HOMESTAR was "the easiest way home."