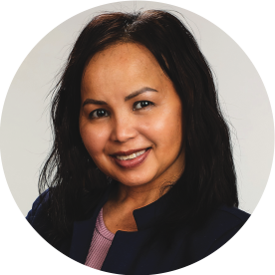 Bao Hang
Mortgage Loan Originator
Office: (470) 252-3600
Mobile: (770) 238-6333
Fax: (877) 750-2385
Let's talk about your future home today
Bao Hang is the Sims Team member fluent in Hmong, Vietnamese, and English. With over three years in the industry, Bao specializes in all HOMESTAR loan types. She is also an expert at credit repair and ready to give her trusted advice to those seeking guidance. Bao's multilingual ability and cheerful attitude help her advise more exponentially and maintain her superior knowledge of every part of the mortgage process in all different ways for a client.
Before joining HOMESTAR, Bao worked for the State of Georgia in the HomeSafe Division, assisting with foreclosure prevention. She believes that owning a home is the heart of all families. She understands where her homebuyers and business partners need guidance and is sure to help in any way she can!
When not in the office, Bao enjoys spending time with her two sons and loves connecting with community members. She loves sharing experiences and supporting the communities around her.
Bao will work hard for you to purchase your first home, second home, and rentals. Give her a call today for all your home financing questions and needs!
NMLS #1742923 GA #62672  NC #I-195773  WI #1742923
139 West Candler St., Winder, GA 30680
Get Directions
Tell me a bit about yourself, and I'll get in touch as soon as I can.
Do you have
something to say too?
Leave a testimonial
Let us know how well the mortgage process went for you after discussing your goals and options. Whether you are purchasing or refinancing, we hope your homebuying journey with HOMESTAR was "the easiest way home."