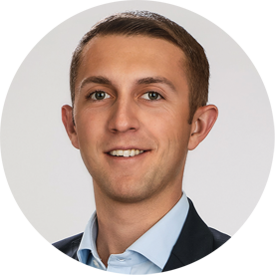 Bryson Burt
Branch Manager
Office: (828) 524-5144, ext. 50180
Mobile: (828) 421-1784
Fax: (866) 912-5143
Let's talk about your future home today
Buying a home is an important milestone and one of the biggest financial decisions of your life! When looking to get a mortgage, it is important to work with a professional on whom you can depend. Bryson can help you reach your goals by finding the perfect mortgage to fit your lifestyle.
As a native of Franklin, Bryson has a deep appreciation for life in these breathtaking mountains. He is very civic-minded and dedicated to making a positive impact on his community each day. Bryson is involved with many charities and organizations, such as Rotary, Relay for Life, Future Business Leaders of America, and Franklin High School Athletics. He is also on the Board of Directors of the Franklin Chamber of Commerce.
Bryson is the "go-to" person that can answer all of your questions regarding loan programs and the loan process. He will put your mind at ease! Give him a call today or stop by his office!
NMLS #1708119 GA #62661 FL #LO57771 NC #I-181160 SC #MLO-1708119 TN #169010
334 E. Palmer St., Franklin, NC 28734
Get Directions
Tell me a bit about yourself, and I'll get in touch as soon as I can.
Testimonials
Read why we're a star
IN THE MORTGAGE INDUSTRY

directly from our clients!
Bryson Burt and his team greatly assisted me while I was stationed in the Middle East. He and his team were absolutely phenomenal! Leonardo da Vinci is to painting what the Burt Team is to getting me a timely and acceptable home loan. There is no one else I would rather deal with. Buying a home sucks, but it sucks a lot less with gentlemen such as Bryson out there getting after it and solving all of our problems. I am truly in his debt! The greatest thing since sliced bread.
This was our second time using Bryson and his team at Franklin NC. Another great experience! If you're looking for honest, knowledgeable, trustworthy and friendly people to handle your mortgage loan needs, call Bryson!! Absolutely the best!
From start to finish, Bryson Burt and his whole team were helpful and easy to work with. They went the extra mile to make sure all our questions were answered along the way. Bryson was always responsive and professional, but more than that, he made us feel at ease through a process that can often be stressful. We highly recommend Bryson and would most definitely work with him again.
Thank you to everyone at HOMESTAR for a pleasant mortgage experience.
We were extremely happy with the service provided by HOMESTAR. The staff were able to make the process easy and painless. They were always there to answer all our questions We would highly recommend there service.
Bryson Burt and the entire team, were very helpful and professional throughout the process. They made the entire experience stress free and smooth as silk.
Bryson and his team was great to work with! Thank you!!
Bryson and his team at HOMESTAR took a lot of the stress out of buying our home. The rates were great, the process simple, and the support tremendous! It was very personalized service. They go above and beyond!
All went well! Bryson did an excellent job communicating throughout the process.
Everything went very smooth especially since we were in Pennsylvania while doing all this paperwork. Just want to say thanks for all you've done.
Bryson and his team at HOMESTAR were brilliant in their communications were beyond reproach! He did everything he said he was going to do and never changed course. I would highly recommend Bryson and his team anytime.
Bryson was very easy to work with and responsive. The only suggestion would be to confirm with the buyer before locking the interest rate. Especially with investor buyers.
Bryson was awesome. I will be recommending him to anyone and everyone.
Do you have
something to say too?
Leave a testimonial
Let us know how well the mortgage process went for you after discussing your goals and options. Whether you are purchasing or refinancing, we hope your homebuying journey with HOMESTAR was "the easiest way home."