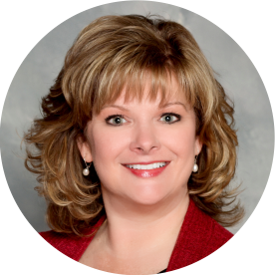 Chrystal Searcy
Branch Manager
Office: (828) 332-3009
Mobile: (828) 289-2893
Fax: (800) 203-6428
Let's talk about your future home today
To see the joy on a homebuyer's face when they are handed the keys to their new home makes my day! Whether they are buying their first home or new vacation home, I'm proud to be a part of the process. As a mortgage advisor with HOMESTAR, I can help people with the most significant purchase that they will ever make. While I have been with HOMESTAR for over five years, I have worked in the mortgage and real estate industries since 2002. My background in real estate gives me a unique perspective when working with people as they go through the homebuying process. My motto is, "A mortgage is people, not paper." I offer convenient online applications, phone interviews, or face-to-face meetings. Each person I work with has a personal preference, and I try to provide various methods to suit their individual needs.
"Helping people" is the core of my professional and personal life. I currently serve on the Board of Directors of Rutherford Housing Partnership, support several community projects, and have served as my church's secretary/bookkeeper for over 25 years. It's exciting to see the growth and change in Rutherford County over the years, but some of the changes have been a struggle. I think it's essential for each of us to help out wherever and however we can.
Whether purchasing a home or refinancing a current mortgage, I dedicate my time and energy to making the process as smooth as possible for all of my clients. Contact me today to see if you qualify for one of our many loan products. This could be the year to make owning your dream home a reality!
NMLS #1513839 NC #I-170953 SC #MLO-1513839
193 Railroad Ave., Rutherfordton, NC 28139
Get Directions
Tell me a bit about yourself, and I'll get in touch as soon as I can.
Testimonials
Read why we're a star
IN THE MORTGAGE INDUSTRY

directly from our clients!
Chrystal is the best. I would recommend her to anyone looking to buy a home.
Always a pleasure working with Chrystal. She is very dedicated and hard working. Thanks so much form making it a smooth process for us!
This was the most incredible experience we have ever had! Chrystal Searcy and her team were phenomenal! Friendly, helpful, professional, personable, trustworthy and so supportive. We are so pleased with them and how they fought for us during this process. Great great team and extremely professional mentoring leadership. Thank you Chrystal!
Chrystal was fantastic! Will recommend her to everyone I know.
Chrystal was awesome at her job. She helped us so much with the process made it quick and easy.
HOMESTAR was recommended to me by my realtor after I had a negative experience with a previous lender I had been working with. Chrystal was always so kind and helpful while I was looking for a house. She was quick to respond and help me go over numbers which was so appreciated. Due to this competitive market I lost a few homes, but it the end I found my perfect match and Chrystal helped me throughout the whole mortgage process. Thank you so much Chrystal for all your help!
Chrystal and Jennifer were awesome! I know I asked a million questions and they were always responsive and super helpful. Would definitely give them 5 stars!
Do you have
something to say too?
Leave a testimonial
Let us know how well the mortgage process went for you after discussing your goals and options. Whether you are purchasing or refinancing, we hope your homebuying journey with HOMESTAR was "the easiest way home."