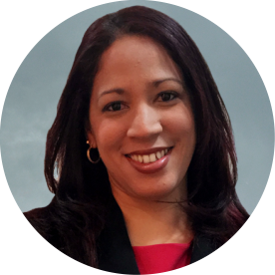 Daleydis Calvo-Terry
Mortgage Loan Originator
Office: (678) 672-3300
Mobile: (678) 779-9618
Fax: (866) 217-7655
Let's talk about your future home today
Daleydis was born in Cuba and graduated with a MBA from the University of Havana. She is fluent in English and Spanish. Daleydis moved to Las Vegas in 2012, where she started working in the mortgage industry. During this time, she gained experience and a vast knowledge in lending transactions as a licensed Mortgage Loan Originator. Then, Daleydis moved to Georgia and still loves what she does. She knows the ins and outs of the business, from the beginning to the end of a loan. Daleydis feels excitement when her clients' dreams come true, as well as when she helps clients understand the process and achieve their mortgage needs. She is happy to spend time with every client and, together, make a correct analysis in order to plan step-by-step a successful acquisition of their mortgage loan.  
Daleydis nació en Cuba y se graduó con un MBA en la Universidad de La Habana. Habla  Inglés y Español. Se trasladó a Las Vegas, Nevada, US en el 2012 y allí comenzó a trabajar en la industria hipotecaria. Durante todo este tiempo adquirió experiencia y vasto conocimiento de las operaciones de préstamo, como Originador de Préstamos.
Se trasladó a Georgia donde continúa amando lo que hace y conoce en detalle los procedimientos de la empresa desde el principio hasta el final de un préstamo. Se emociona cuando los sueños de sus clientes se hacen realidad y cuando puede ayudar a los clientes a comprender el proceso y suplir sus necesidades hipotecarias. Para Daleydis es una satisfacción pasar tiempo con cada cliente y juntos hacer un correcto análisis con el fin de planificar paso a paso una adquisición exitosa de su préstamo hipotecario.
NMLS #1365534 GA #52322 AL #1365534 FL #LO68601 SC #MLO-1365534
4227 Pleasant Hill Rd., Bldg. #14, Duluth, GA 30096
Get Directions
Tell me a bit about yourself, and I'll get in touch as soon as I can.
Do you have
something to say too?
Leave a testimonial
Let us know how well the mortgage process went for you after discussing your goals and options. Whether you are purchasing or refinancing, we hope your homebuying journey with HOMESTAR was "the easiest way home."