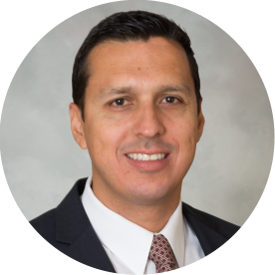 Diego Garcia
Branch Manager
Office: (678) 672-3300, ext. 53568
Mobile: (770) 329-9766
Fax: (770) 406-5137
Let's talk about your future home today
HOMESTAR is a full-service mortgage banker controlling every aspect of the loan process with in-house processing, underwriting, closing, and funding of each mortgage transaction. Having an in-house team separates HOMESTAR from other mortgage companies because it is easier for HOMESTAR mortgage lenders to communicate quickly and effectively with every department needed to close a transaction.
Headquartered in Gainesville, Georgia, HOMESTAR began operation in April of 2002. HOMESTAR has become a regional lender in the southeastern United States, licensed to conduct business in 41 states. HOMESTAR's leaders and employees are among the most knowledgeable and experienced industry professionals.
Our purpose is to maintain a strong reputation as an honest mortgage company offering outstanding customer service, exceptional community relationships, and a high level of employee satisfaction. We strive as a company to meet the needs and wants of our customers, ensuring their arrival at "the easiest way home."
NMLS #208948 GA #25196
4227 Pleasant Hill Rd., Bldg. #14, Duluth, GA 30096
Get Directions
Tell me a bit about yourself, and I'll get in touch as soon as I can.
Testimonials
Read why we're a star
IN THE MORTGAGE INDUSTRY

directly from our clients!
I am amazed at how wonderful Diego García is . He did a wonderful job and look forward to recommending him to everyone I know. Thanks Diego for your kindness and knowledge of the loan process. You made it happen and we are more than grateful for your constant support. Always one step ahead of the game. HOMESTAR is lucky to have you in their team. Much appreciated for everything that you did to make sure we had the dream house we wanted you made it happen and will forever be grateful . Sincerely, Douglas and Perla Avila
Diego Garcia and his staff excelled with their expertise and knowledge in this process. Diego was always available to explain and guide us with our questions or steps to take, we could not be any happier and satisfied with his professionalism. Thank you for making the purchase of our new home a wonderful experience.
I had an excellent experience with HOMESTAR, particularly with Diego Garcia and his team. He has been my premier lender because I have also been a realtor for years.
Muchas gracias por toda su ayuda. Diego es un excelente ser humano y gracias a el y todo su esfuerzo logramos nuestro objetivo estamos eternamente agradecidos a el y a Homestar por hacer echo realidad nuestro sueño
Diego Garcia is a true professional that knows his job. During our home buying process Diego always answered our questions and explained thoroughly the steps to take to become homeowners. He was honest about expectations and truly rooted for my family during our ownership process. Thank you Diego!
Diego and his team went above and beyond by being available and present during this situation. My closing was delayed a few days and it really had a impact on me due to memorial day holiday. The Homestar team attempted to resolve the issue and once we closed did a follow up phone call just to check in! Thank you for your level head and a steadfast business acumen.
Do you have
something to say too?
Leave a testimonial
Let us know how well the mortgage process went for you after discussing your goals and options. Whether you are purchasing or refinancing, we hope your homebuying journey with HOMESTAR was "the easiest way home."