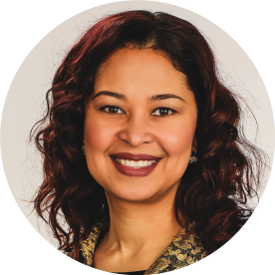 Gabriela Villafranco
Production Manager
Office: (678) 672-3300, ext. 53617
Mobile: (678) 458-3807
Fax: (800) 869-2038
Let's talk about your future home today
HOMESTAR is proud to have Gabriela Villafranco as a member of the HOMESTAR family. Gabriela is a Mortgage Loan Originator at the Duluth, GA branch, and she is a Venezuelan native with over 15 years of experience in the mortgage industry. Maintaining a comprehensive knowledge of HOMESTAR?s growing list of mortgage loan product offerings is crucial to Gabriela. In order to provide exceptional service, she places primary emphasis on service and communication with her customers. Gabriela understands the importance of staying educated about the ever-changing market and working with her clients' individual needs and schedules. Gabriela is involved in her chosen field as a member of the Mortgage Bankers Association of Georgia (MBAG). Her expertise has been recognized by her customers and business partners in the MBAG Gold Recipients List of Top Mortgage Professionals every year since 2017, being a recipient of the Platinum Award in 2020, and she consistently ranks among the million dollar producers within HOMESTAR. Gabriela specializes in FHA and Conventional loans but also closes VA, USDA, and Georgia Dream loans (among other Down Payment Assistance programs). She received the National Association of Hispanic Real Estate Professionals (NAHREP) Top 250 Mortgage Loan Originators award Nationwide in 2019 and 2020 and the National Association of Minority Mortgage Bankers of America (NAMMBA) Top 100 Mortgage Loan Originators award in 2018, 2019, and 2020. Gabriela also believes in community involvement, as she is a supporter of the Arthritis Foundation, American Red Cross, the American Cancer Society, and various Venezuelan humanitarian causes. Outside of the office, Gabriela practices yoga and enjoys hiking. She also loves traveling internationally and the many activities America has to offer.
NMLS #157429 GA #24948 AL #69327 FL #LO49370 SC #MLO - 157429
4227 Pleasant Hill Rd., Bldg. #14, Duluth, GA 30096
Get Directions
Tell me a bit about yourself, and I'll get in touch as soon as I can.
Thanks to Gabriela Villafranco and her team, we are now the proud owners of the perfect home in a beautiful neighborhood. We are so thrilled and cannot wait to add personal touches to make it our own. You closed the deal artfully and seamlessly; we are forever thankful to you.
Gabriela and her team were amazing! They were very helpful and were always on top of everything.
Great service! I really recommend it! They are awesome.
It was a pleasure working with you, we appreciate your warmth and professionalism in all the steps taken to reach the desired goal, our first house.
Agradezco a Gabriela y a todo su equipo por haberme apoyado y poder cumplir con la compra de mi casa. Son muy profesionales y una excelente atención a sus clientes! Una vez más mil gracias Team HOMESTAR 🥰🙏
Do you have
something to say too?
Leave a testimonial
Let us know how well the mortgage process went for you after discussing your goals and options. Whether you are purchasing or refinancing, we hope your homebuying journey with HOMESTAR was "the easiest way home."