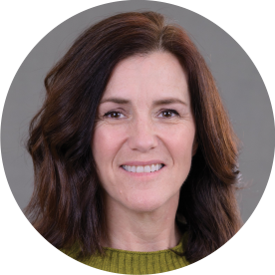 Lurree Pavis
Branch Manager
Office: (828) 837-2587
Mobile: (828) 361-8959
Fax: (706) 363-9127
Let's talk about your future home today
HOMESTAR has three offices in Western North Carolina: Franklin, Murphy, and Sylva. The Branch Managers at each of these offices have deep experience and knowledge in mortgage lending.
Lurree, at the Murphy office, has 25 years of experience in mortgage lending and holds licenses in Florida, Georgia, North Carolina, and Tennessee. She specializes in Conventional, FHA, USDA, and VA loans. Lurree and her family moved from Vero Beach, FL to Murphy, NC in 2004.
Click here to leave a review for Lurree on Zillow
At HOMESTAR, we have an established set of values that are a part of every meeting, solution, and relationship. At the core of these values, you will find integrity, honesty, and compassion. With these values in place, we strive to ensure that you will find not just another lender, but also practical advice that is in everyone's best interest, honest, and just. We want you to feel like we are a part of your family or business. In serving your needs, HOMESTAR's goal is to always solve your problem in the most effective way with compassion, empathy, and "high touch." We want you to feel the service you receive is at a value that far exceeds your expectations. We pride ourselves on being easy to do business with, being responsive, and able to work swiftly to solve issues that arise during the loan process, keeping all parties updated along the way.
OUR EMPLOYEES: HOMESTAR cannot have our clients feel like we are a part of their family unless our employees feel like they are a part of our family. We treat each other the way we want to be treated, believe in a comfortable and safe work environment, and that everyone should receive fair compensation for helping our clients. HOMESTAR's client's standards are high, and we hold each other accountable to meet those standards.
INTEGRITY: HOMESTAR prides itself on listening. Our team believes that within the facts about our client's situation and needs, lies the direction for the best solution. We assure our clients uncompromising confidentiality and complete honesty. Practical and realistic solutions can be developed while maintaining the dignity and integrity of all parties.
COMMUNITY: We raise our children in the communities we serve. Therefore, our goal is for HOMESTAR to be a company that our families are proud of. So, we understand that strong communities prosper in doing business in our own local area. HOMESTAR is also involved in giving back to the community with sponsorships, time, and commitment.
HOMESTAR manages all offices with VALUES that are a part of each meeting, solution, and relationship. We believe in providing practical advice that is actionable, that honesty is the cornerstone of every solution, and that solutions must be efficient, economical, and fair to all parties.
OUR SPECIALTIES:
USDA loans  - ZERO DOWN - We can do escrow holdbacks that allow for repairs
FHA - loans 3.5% DOWN and $100 down HUD owned
VA loans - ZERO DOWN - Thank a veteran today!
Conventional and Jumbo loans - As little as 3% down
Second homes - 10% down - Vacation Homes
Manufactured housing - VA, FHA, and Conventional
Previous bankruptcy (Ch. 7 & 13) - Must meet wait times
Previous foreclosure or short sale - Must meet wait times
NMLS #69575 GA #45904 FL #LO41149 NC #I-164440 TN #132879
489 Hill St., Murphy, NC 28906
Get Directions
Tell me a bit about yourself, and I'll get in touch as soon as I can.
Testimonials
Read why we're a star
IN THE MORTGAGE INDUSTRY

directly from our clients!
Lurree and her staff were an absolute pleasure to work with. Everyone was responsive and helpful guiding us through the process. Everything went smoothly and we were able to save a lot of money with a great new rate!
Fantastic experience. Lurree and the HOMESTAR team in Murphy, NC are stellar. From initial pre qualification to closing each member was responsive and informative in their communication and made the process of obtaining a VA loan seamless. I have and will continue to recommend HOMESTAR of Murphy to each and every person I know who plan on pursuing homeownership.
Everyone was very helpful and made the process very easy. Would definitely recommend them.
Lurree and her team are very professional and competent. They are a pleasure to work with and we had an excellent experience. We would highly recommend them to our friends and family. Thank you.
This was the most easier and friendliest process that I ever had. The relation between the loaner and us seem like we were family. Thank you so much it was a pleasure.
These gals are absolutely awesome. THANK YOU, THANK YOU, THANK YOU! They were THE light at the end of the tunnel for us. Lurree, Kali, and Taylor saved us about $55,000 through their rapid, professional, and very thorough handling of our unique case loan. Make no mistake! These are the people you need to do business with. Thanks again to Lurree, Kali, and Taylor.
Lurree is FANTASTIC! This is our 4th time working with her! She and her team go ABOVE and BEYOND in terms of making sure the process is as easy as it can be and will take whatever actions are needed to close the deal. She takes a personal interest in each customer and is the ultimate professional! We would always seek to do business with Lurree!
Lurree was exceptional to work with. She told me what she needed very concisely and I was able to provide her the information she requested. And any questions I had she promptly answered, no matter how trivial. The HOMESTAR website is also very user friendly and easy to navigate. Overall our experience was great working with Lurree Pavis at HOMESTAR. They even got our closing moved up by a week. Thank you Lurree and Rae for the best homebuying experience ever!!
The entire HOMESTAR team did a great job and was very thorough in walking my wife and I through the entire loan process. Everything went very well and we would definitely recommend them to anyone looking for a home loan. Our thanks and gratitude to the entire team!
Friendly, courteous, and professional. Walked us through every step. We would recommend Luree and HOMESTAR if anyone looking to buy any type of real estate. Thank you so much!
The entire team was dedicated to meet our contract deadline and I can proudly say that they did an exceptional job in doing so and we actually closed a few days sooner. Lurree was there from the beginning to help smooth the process and answer any questions we had. Rae was great and patient when requesting items she needed. Everyone was working diligently to meet our closing date and they were all very professional and courteous. I would absolutely recommend HOMESTAR. Thanks to everyone who made our dream a reality.
The team at HOMESTAR was amazing. I sent several emails because it was my first time, and they always responded within minutes. They were very helpful and made this stressful process so much easier. They helped me through everything. I'm so grateful!
I have had numerous home purchases over my 73 years. I was referred to Lurree Pavis of HOMESTAR by my realtor. She was a clear, honest, and frank communicator to the highest level. She cared about our purchase and explained every step of the process. Simply put, she was GREAT, and so was her entire team. Best ever!
Fantastic experience overall. Ms. Pavis was incredibly helpful and communicated throughout the mortgage process. I couldn't have asked for better service.
Thank you for most pleasant easy and rewarding experience. You are outstanding!
Do you have
something to say too?
Leave a testimonial
Let us know how well the mortgage process went for you after discussing your goals and options. Whether you are purchasing or refinancing, we hope your homebuying journey with HOMESTAR was "the easiest way home."