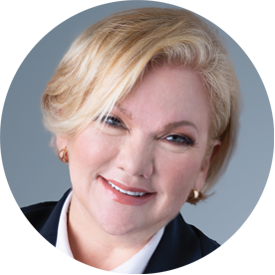 Patricia Boezio
Sr. Mortgage Loan Originator
Office: (404) 252-2211
Mobile: (404) 790-9653
Fax: (678) 456-1631
Let's talk about your future home today
HOMESTAR is proud to have Patricia Boezio as a member of our award-winning team. She shares her knowledge as a Senior Mortgage Loan Originator at our Sandy Springs, GA Branch.
Patricia studied at Curitiba College in Brazil and, since 1996, she has specialized in loans for first-time homebuyers and the Latino community/emerging markets. She also has experience with HomeReady, Conventional, and FHA loans. Patricia is dedicated to guiding and educating homebuyers on the financial steps when it comes to buying the homes of their dreams.
Patricia is also passionate about the Latino community and helping others. She is on the honorary consul of Ecuador in Georgia, from 2000 to present, and she is a member of the Georgia Hispanic Chamber of Commerce Ambassador Club, from 2017 to present. In her spare time, Patricia enjoys yoga, traveling, and hiking.
Patricia has also held several recognitions:
In 1998, the Mortgage Bankers Association of Georgia recognized her with the Gold Awards for "Excellence in Mortgage Banking."
In 2004, the La Vision a Leader Newspaper in Atlanta presented her with the "Outstanding Banking and Mortgage" award.
In 2005, Patricia was featured on the cover of Atlanta Woman Magazine as one of Atlanta's "Top Female Entrepreneurs."
In 2005, Patricia was honored by the Georgia Hispanic Chamber of Commerce as owner of the "Company of the Year."
In 2007, the Consulate General of Mexico in Atlanta gave Patricia special recognition for her valuable contribution in the area of "Community Housing" access in Mexico.
Patricia is bilingual in Spanish, English, and Portuguese. Contact her today for all your mortgage needs!
NMLS #215540 GA #25348 FL #LO43700
332 Washington St. NW, Gainesville, GA 30501
Get Directions
Tell me a bit about yourself, and I'll get in touch as soon as I can.
Testimonials
Read why we're a star
IN THE MORTGAGE INDUSTRY

directly from our clients!
Patricia is very patient. She takes the time to explain and thoroughly review options for her customers
This is the second time working with HOMESTAR and it's always a pleasure working with them. Patricia, Eunice, and Amber are the best!
Fue un services execional, son personas muy competentes y siempre están para ayudar a que toda la information y documentos estén lo más rápido posible, todo el tiempo están para aclarar cualquier duda en el proceso.
Working with Patricia and her team was the best decision. She made me feel comfortable with the whole process. Highly recommend her, her team, and the whole HOMESTAR Team.
Great overall service, with efficient communication and care along the way to a relatively easy mortgage. Lots of help and support from Patricia Boezio to get us the deal we were looking for. She introduced us to John Franco with Atlanta Neighborhood Realty, Inc., who quickly became our realtor, friend, and one of the best chapters of the whole experience hands down. The team is on top of the business and doesn't hesitate to go the extra mile at every stage. I would recommend them to anybody that is looking for a smooth buying experience.
Fue una emocionante experiencia donde fui llevada de la mano de los mejores conocedores del mercado de bienes raíces..estoy muy agradecida por ya tener la cosas de mis sueños
Great experience. Patricia and her team did an excellent job. I will definitely use her again as my mortgage loan originator.
Muchas Gracias Patricia usted tubo siempre con nosotros un trato cordial y amable para guiarnos en esta compra nada hubiera sido igual sin su ayuda. Muchas Gracias!!!
Do you have
something to say too?
Leave a testimonial
Let us know how well the mortgage process went for you after discussing your goals and options. Whether you are purchasing or refinancing, we hope your homebuying journey with HOMESTAR was "the easiest way home."