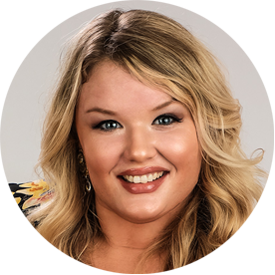 Rachel A. Benton
Mortgage Loan Originator
Office: (470) 443-9810
Mobile: (678) 699-1299
Fax: (470) 253-2785
Let's talk about your future home today
HOMESTAR is proud to have Rachel as part of the team since 2016. She is a Mortgage Loan Originator at the Marietta, GA branch.
Prior to becoming a Mortgage Loan Originator at HOMESTAR, Rachel has experience as a Processor and Mortgage Loan Originator Assistant. Therefore, she is familiar with the ins and outs of the mortgage loan process. Rachel is a people person, detail-oriented, organized, and able to adapt to any situation quickly.
Rachel is also passionate about learning new information regarding the different types of mortgage loans, and she appreciates the challenge that comes with finding new ways to achieve mortgage loan success. Outside of the office, Rachel loves traveling, camping, and enjoying the outdoors.
HOMESTAR values Rachel's drive for helping individuals and families achieve the American Dream of homeownership.
Rachel is always ready to help you find the "easiest way home." Contact her for all of your mortgage needs! Rachel is accessible day/night and on weekends.
NMLS #1749533 GA #63103 AL #71203 FL #LO55633 SC #MLO - 1749533 TN #161216
2414 Dallas Hwy., Bldg. 100, Ste. 200, Marietta, GA 30064
Get Directions
Tell me a bit about yourself, and I'll get in touch as soon as I can.
Testimonials
Read why we're a star
IN THE MORTGAGE INDUSTRY

directly from our clients!
I cannot express enough how grateful our family was to find Rachel and Mary. They truly changed the experience of buying a new home. As a first time homebuyer these girls really stepped up and explained everything to me all along the way. They were quick to respond even when the circumstances weren't ideal. THANK YOU beyond thank you's! We are grateful for the experience with HOMESTAR and will absolutely be using them again in the future!
Rachel was extremely helpful guiding me through this entire loan process. She provided me step-by-step guidance as I maneuvered through this loan process. Always pleasant and professional. Rachel made this a great experience.
Rachel Benton is the best person anybody could ever ask to work with. She's amazing!!!
Rachel was absolutely AMAZING to work with!! She went SO far above & beyond to answer my random questions regardless of the day/time, and helped explain things where we had questions. We very much appreciated her assistance going through our house buying journey! A+++++
I utilized HOMESTAR for the refinancing of my home. From our initial contact, Rachel was very proactive and communicated every step in the process with me. I especially loved the HOMESTAR App for completing forms and uploading documents. It was very user-friendly. Both Rachel and Karen removed the stress that typically occurs with the mortgage process. This entire process except closing was done electronically. Should the need arise, I will recommend HOMESTAR to my friends and family.
Rachel Benton and her team were phenomenal in helping me with my first home purchase. Great customer service, quick response time, and super knowledgeable. Her team made the homebuying process seamless and ensured I was comfortable each step of the way.
Buying a home is often described as one of the most stressful life events you can go through. While this may be true, having an incredible realtor and Rachel by your side makes the experience of buying a home feel more like a privilege than a hassle. Rachel and Mary worked so hard to ensure that once I found a house that we could get to closing as quickly as possible. And that's exactly what happened. Mary even helped me find the house that was right! They worked nights. They worked weekends and holidays. They worked through major life events without ever missing a beat. Working with these two made life easy and the during the whole process never made me feel like I was overbearing (even though I probably was). They always got back to me right away and I could feel that they genuinely wanted the best possible outcome for me and that they were going to do whatever was in their power to make it happen. I am so grateful and so proud to have had the opportunity to work with Rachel as my lender. Anyone who wants to be treated with kindness, compassion, and empathy during one of the most stressful events in a persons life should look no further than Mortgages by Rachel.
Do you have
something to say too?
Leave a testimonial
Let us know how well the mortgage process went for you after discussing your goals and options. Whether you are purchasing or refinancing, we hope your homebuying journey with HOMESTAR was "the easiest way home."