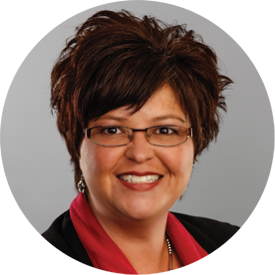 Regina England
Division Manager
Office: (828) 524-5144
Mobile: (706) 499-4736
Fax: (706) 363-9109
Let's talk about your future home today
HOMESTAR has three offices in Western North Carolina: Franklin, Murphy, and Sylva. The Branch Managers at each of these offices have deep experience and knowledge in mortgage lending.
Regina, at the Franklin office, is the Western North Carolina team leader and has 24 years of experience in mortgage lending. 
At HOMESTAR, we have an established set of values that are a part of every meeting, solution, and relationship. At the core of these values, you will find integrity, honesty, and compassion. With these values in place, we strive to ensure that you will find not just "another lender," but also practical advice that is in everyone's best interest, honest, and just. We want you to feel like we are a part of your family or business. In serving your needs, HOMESTAR's goal is to always solve your problem in the most effective way with compassion, empathy, and "high touch." We want you to feel the service you receive is at a value that far exceeds your expectations. We pride ourselves on being easy to do business with, being responsive, and able to work swiftly to solve issues that arise during the loan process, keeping all parties updated along the way.
OUR EMPLOYEES: HOMESTAR cannot have our clients feel like we are a part of their family unless our employees feel like they are a part of our family. We treat each other the way we want to be treated, believe in a comfortable and safe work environment, and that everyone should receive fair compensation for helping our clients. HOMESTAR's client's standards are high, and we hold each other accountable to meet those standards.
INTEGRITY: HOMESTAR prides itself on listening. Our team believes that within the facts about our client's situation and needs, lies the direction for the best solution. We assure our clients uncompromising confidentiality and complete honesty. Practical and realistic solutions can be developed while maintaining the dignity and integrity of all parties.
COMMUNITY: We raise our children in the communities we serve. Therefore, our goal is for HOMESTAR to be a company that our families are proud of. So, we understand that strong communities prosper in doing business in our own local area. HOMESTAR is also involved in giving back to the community with sponsorships, time, and commitment. 
HOMESTAR manages all offices with VALUES that are a part of each meeting, solution, and relationship. We believe in providing practical advice that is actionable, that honesty is the cornerstone of every solution, and that solutions must be efficient, economical, and fair to all parties.
OUR SPECIALTIES:
USDA loans – ZERO DOWN - We can do escrow holdbacks that allow for repairs
FHA loans – 3.5% DOWN and $100 down HUD owned
VA loans – ZERO DOWN – Thank a veteran today!
Conventional and Jumbo loans – As little as 3% down
Second homes – 10% down – Vacation Homes
Manufactured housing – VA, FHA, and Conventional
Previous bankruptcy (Ch. 7 & 13) – Must meet wait times
Previous foreclosure or short sale – Must meet wait times
NMLS #97496 GA #24885 FL #LO57734 NC #I-143327 TN #168629
334 E. Palmer St., Franklin, NC 28734
Get Directions
Tell me a bit about yourself, and I'll get in touch as soon as I can.
Do you have
something to say too?
Leave a testimonial
Let us know how well the mortgage process went for you after discussing your goals and options. Whether you are purchasing or refinancing, we hope your homebuying journey with HOMESTAR was "the easiest way home."