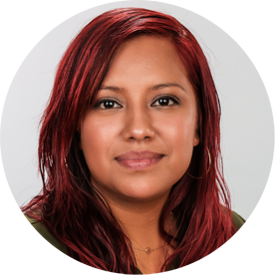 Stefanny Taylor
Mortgage Loan Originator
Office: (706) 201-9500
Mobile: (706) 201-9500
Fax: (866) 912-5084
Let's talk about your future home today
HOMESTAR is proud to have Stefanny as part of the team. She is a Mortgage Loan Originator at the Watkinsville, GA Branch.
Stefanny was born in Lima, Peru and raised there until her family arrived to the United States when she was 10. According to Stefanny, it took time for her to learn a new culture and language, but she has come to understand a lot about her new home in the years since she arrived. When she's not working, Stefanny likes to eat at La Parilla, enjoys working out, and cuddling up with her Shih Tzu, Roscoe.
Stefanny has been working in the mortgage industry for almost nine years. She began her career young, as a teller at Bank of America. Stefanny worked her way up the ladder to become a relationship banker, and she has been originating loans ever since. Now, she's brought this experience with her! Use Stefanny's knowledge of the financial sector to help place you into the home of your dreams!
Contact Stefanny today to get started!
NMLS #1738614 GA #62425 AL #71965 FL #LO58097 SC #MLO - 1738614
1551 Jennings Mill Rd., Unit 100A, Watkinsville, GA 30677
Get Directions
Tell me a bit about yourself, and I'll get in touch as soon as I can.
Testimonials
Read why we're a star
IN THE MORTGAGE INDUSTRY

directly from our clients!
This was my first experience with the homebuying process and Steffany Taylor was absolutely incredible! From our first conversation through my interaction and questions across the team including Penny Fair and Sonia Williams, I felt knowledgeable and informed throughout the approval and closing process. The recommended course was also an added benefit I believe everyone should be required to take. My thanks and great appreciation to the team for your partnership.
It was an excellent experience and I really liked working with Stefanny Taylor. She is a great person
Amazing experience! Stefanny did an amazing job for us!
Received the best and friendliest yet professional service. Very helpful and informative throughout my entire experience.
Do you have
something to say too?
Leave a testimonial
Let us know how well the mortgage process went for you after discussing your goals and options. Whether you are purchasing or refinancing, we hope your homebuying journey with HOMESTAR was "the easiest way home."