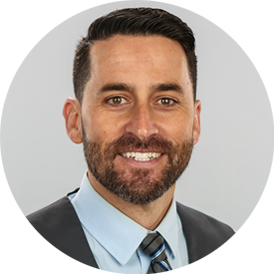 Wes Barclay
Branch Manager
Office: (678) 561-1554
Fax: (800) 788-9054
Let's talk about your future home today
HOMESTAR is a full-service mortgage banker controlling every aspect of the loan process with in-house processing, underwriting, closing, and funding of each mortgage transaction. Having an in-house team separates HOMESTAR from other mortgage companies because it is easier for HOMESTAR mortgage lenders to communicate quickly and effectively with every department needed to close a transaction.
Headquartered in Gainesville, Georgia, HOMESTAR began operation in April of 2002. HOMESTAR has become a regional lender in the southeastern United States, licensed to conduct business in 41 states. HOMESTAR's leaders and employees are among the most knowledgeable and experienced industry professionals.
Our purpose is to maintain a strong reputation as an honest mortgage company offering outstanding customer service, exceptional community relationships, and a high level of employee satisfaction. We strive as a company to meet the needs and wants of our customers, ensuring their arrival at "the easiest way home."
NMLS #1309779 GA #59657 AL #69030 FL #LO63610 SC #MLO - 1309779 TN #175844
3048 Cherokee St. NW, Kennesaw, GA 30144
Get Directions
Tell me a bit about yourself, and I'll get in touch as soon as I can.
Testimonials
Read why we're a star
IN THE MORTGAGE INDUSTRY

directly from our clients!
Fastest closing I've ever experienced. We were closed in under 3 weeks. The team was thorough and resourceful and the process was quick and efficient.
This is my second closing with HOMESTAR. Another excellent experience!
Thank you Wes for all your help and assistance. The best team any first time buyer can ask for , they are the most curious, professional and helpful team I've ever dealt with.
This was my first time buying a home. The HOMESTAR team really provided my husband and I with quality service. They guided us all along the way and made it easy for us to participate. What I really liked about this team is that they were consistent and made us feel like a priority each time. Thanks to them, we were able to go through the process very smoothly.
Working with Wes and his team was a joy. They are an incredibly talented group of individuals who made my wife and I felt like we were their only clients. We had a lot of very specific things we needed in our new home and Wes' team helped us get everything we needed to get the house of our dreams. In a market where cash offers seem to be king, Wes' team helped us get our offer accepted for the house that is truly our forever homey.
Wes Barclay and his team are professional and know how to get things done. I would work with them again!
I am so grateful for Wes Barclay and his team. They were kind, patient, and made the process so much easier for me; especially considering I am a first time homebuyer. Words can't express how thankful I am, with their help I now own my first home! Special special thanks to Emily and Serethiel. You ladies are awesome! Thank you so much.
It was a great experience working with Wes and his team! Highly recommended!
Had an excellent experience with the WB Team here at HOMESTAR. I'm very satisfied with the professionalism and kind staff that I dealt with. They got me to the closing table in a timely manner and stood up for me as a first-time homebuyer. I will be using them again in the future and recommending them to family and friends. Highly recommend Wes Barclay and his team!
I had a great experience working with HOMESTAR! The whole team, Wes, Dustin and Emily, were all very professional, helpful and responsive. They kept things moving fast and efficiently. Ansley was my loan processor and she was so amazing, helpful and super supportive. She put my mind at ease because it felt like she was always right there with me from start to finish. Anytime I emailed her, she answered right away and did a great job explaining the process as well as the answers to any questions I had. I'd give the team and her a 5 star review! :) Thank you all!
Do you have
something to say too?
Leave a testimonial
Let us know how well the mortgage process went for you after discussing your goals and options. Whether you are purchasing or refinancing, we hope your homebuying journey with HOMESTAR was "the easiest way home."