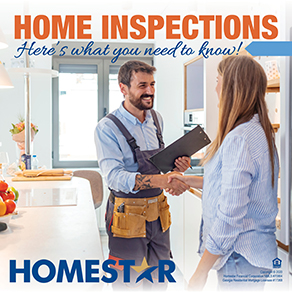 Whether you are selling your home or are in the process of buying a home, a home inspection isn't required. However, it can be very helpful in determining any issues with a home before you make a sale or purchase. Always keep in mind that not every home is perfect and there's no "pass" or "fail" to it. It is also not to be confused with a home appraisal, which determines the home's market value.

Here's what you need to know when it comes to home inspections:

1. A home inspection is a visual examination of a home, from the roof all the way to the foundation. It can help minimize the unexpected and you will learn more about the home you are buying (or selling), especially with it being a large investment.

According to the American Society of Home Inspectors (ASHI), inspectors will review the following:
Heating system
Central air conditioning system (temperature permitting)
Interior plumbing
Electrical systems
Roof
Attic (including visible insulation)
Walls
Ceilings
Floors
Windows and doors
Foundation
Basement
Structural components
Just keep in mind that the more the inspector has access to in the home, the more detailed (and better) the final report will be.
2. A home inspector is typically called soon after a contractor or purchase agreement has been signed. Ensure that you moving forward on the purchase of the home is contingent upon what is found in the inspection report.
3. Buyers normally pay for a home inspection. Sellers may opt to pay for a home inspection if they plan on fixing any issues prior to listing the home for sale. The cost of a home inspection can vary based on your location and the size of the home. According to HomeAdvisor, the average cost is $336, but the typical range is from $278-$399.
It's best to choose a qualified inspector over the least expensive inspector. Conduct thorough research to find the best home inspector in your area; ask family and friends for recommendations.
4. The duration of a home inspection varies based on the size of the home, defects found, how thorough the inspector is, and how helpful the current homeowner is with the inspection. Although not required, it is highly encouraged for buyers and sellers to attend a home inspection and ask questions along the way.
5. If the inspection report reveals issues with the home, that's okay! Remember, no home is going to be perfect and that doesn't mean you shouldn't sell or buy the home. The inspection is helpful in showing you ahead of time what you can expect. You may have a tight budget, or want to avoid repair work, and this information will be very beneficial to you.
Home inspections are a relatively inexpensive way to help you understand the home you are selling or buying a little bit more. They don't require a lot of time, but they can save you a ton of time (and headache or heartache) in the end when it comes to making one of the largest sales or purchases in your lifetime.
If you have questions about home inspections or would like additional information, please reach out to a local HOMESTAR Mortgage Loan Originator. We are always happy to assist you!
Sources:
https://www.homeinspector.org/FAQs-on-Inspection
https://www.homeadvisor.com/cost/inspectors-and-appraisers/hire-a-home-inspector/