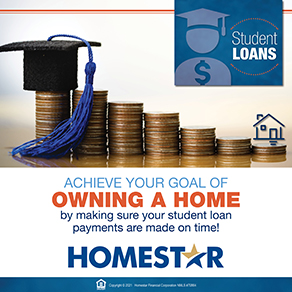 If you have student loan debt, you may be wondering how this affects your ability to buy a home. Good news – even if you have student loan debt, you can still achieve your homeownership goals.

Your credit score is an important factor when it comes to purchasing a home. To maintain a good credit score, always make timely payments – including student loan payments!

How student loan debt can negatively impact your credit score, especially if you don't make payments on time:

1. The first day after you miss a student loan payment, your loan becomes delinquent. If you are delinquent for more than 90 days, your loan servicer will report it to the three major credit bureaus.

2. When you default, this can negatively affect your credit rating and future borrowing ability. You may contact your student loan servicer for more information about repayment options to fit your current needs.

Tip: You can get ahead on your student loans and reduce the interest you pay and the total cost over time by making payments before they are due or paying more than the amount due each month.

Learn more about establishing or maintaining a good credit score to help you along your journey to homeownership. Contact your local HOMESTAR Mortgage Loan Originator today and determine the right mortgage for you!