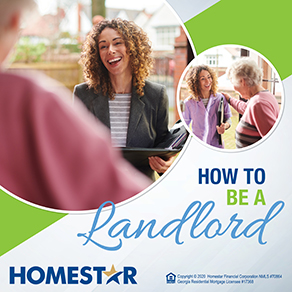 Thinking about purchasing rental property or listing your current home for rent? Becoming a landlord takes time, is an investment, requires organization, and involves a thorough understanding of landlord-tenant laws.

Here is what you need to know when it comes to how to be a landlord managing tenants and rental property:

1. Purchase the rental property. The first step in becoming a landlord is to search for and purchase the rental property. Take into consideration the location, surrounding properties, school districts, average rental costs in the area, property taxes, and more. Start simple and with a property close to where you are now, especially as you become a landlord for the very first time.

2. Understand the costs. Calculate the costs that come with a rental property, such as repairs, insurance, fees, and operating expenses. You will want to ensure that you can make money with your rental property before you become too involved in the process.

3. Cover your property. If the rental property is separate from your home, you will want to look into landlord insurance. Research and understand the coverage you may need to protect your investment.

4. Be selective with tenants and get to know them. There's nothing worse than a bad tenant. Always screen potential tenants by running background and credit checks, checking references, and conducting interviews. It is important to select tenants you can trust to make payments on time, take care of the property, and are easy to communicate with.

5. Understand the laws. After you have decided to become a landlord, you need to get familiar with your local landlord-tenant laws. You can view them for each state here.

6. Draft a lease. Standard lease forms are available online that you can reference when drafting a lease for your rental property. You will need to update your lease to best suit your unique situation, preferences, and more. Be as specific as you can: Do you require renters insurance? Are pets allowed on the property? Check out ezLandlordForms to get started with drafting a lease.

7. Keep records and all information organized. Always keep records of every detail about your rental property, including its original condition, inspections, move-out condition, and more. Keep accurate records of all income, expenses, and financial statements.

8. Maintain the property. Have your rental property inspected regularly to ensure there are no underlying issues or damages caused by the tenants that may have been missed. This will avoid costly damages that could have been found sooner rather than later.

9. Look into property management, if you feel it is needed. If you would prefer to have as little interaction with the tenants as possible or you are too busy to check in often, look into hiring a property manager. Hiring a property manager is an additional expense but they can save you extra effort and time as they can market your rental property, select and manage tenants, schedule inspections, collect rent, handle all accounting and bookkeeping, and more.

Ultimately, you will need to be ready to work hard as managing a rental property, or multiple rental properties, is like a business. It's an effective way to make money, but it will not help you become rich instantly. We hope these tips are helpful as you begin down the path of becoming a landlord.

If you need assistance with obtaining a mortgage for a rental property, reach out to a HOMESTAR Mortgage Loan Originator today.