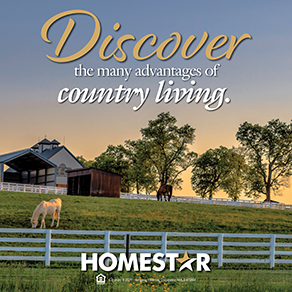 Thinking about escaping city life? Rural living may be a great option for you as you can enjoy a relaxed lifestyle, start the hobby farm you've always dreamed about, or give your children a unique childhood experience.

Discover the many advantages of country living, which just can't be found anywhere else…

More Space

In the city, homes that sit on more than an acre are hard to come by. However, homes in rural areas typically sit on multiple acres, which means way more space. You have the freedom to do what you want with the land, whether that be to start a hobby farm, build a barndominium, or do absolutely nothing – it's up to you!

Cost of Living Is Typically Lower

It's no secret that the city can be expensive, and most people dream of owning a home rather than renting.

The cost of living in the countryside is typically at a much lower price per square foot, so you can get more home for your money. Imagine owning a beautiful home with a garage, large laundry room, or plenty of outdoor space – all of which you won't get for the same cost living in the city.

Closer to the Surrounding Community

With the busyness of the city and its large size, it can be challenging to connect with the surrounding community. Cities are full of life, but that doesn't mean you will get to know your neighbors all too well – at least not more than a passing wave or quick "hello" here and there.

Smaller communities provide more opportunities to really get to know your neighbors and form tight bonds.

Relaxed Lifestyle

Living in the country has long been associated with a relaxed lifestyle. Not only are you removed from the hustle and bustle of the city, but you can live at your own pace.

More Privacy

With fewer people around, you have more privacy!

If you enjoy having a space of your own and neighbors who aren't too close for comfort, rural living may be just right for you. No need to worry about neighbors walking over, unexpected visits from salespeople, or any other quirks you may be facing where you are now.

Work with a View

As the workforce continues to change, more individuals and families are finding themselves working from home. If your commute is gone, you now have the flexibility to live where you want. And, the view of the countryside is worth making a move!

Wonderful for Children

Living in a rural area allows children to be free to play and explore, which can sharpen their minds, refine their social skills, strengthen their imaginations, and keep their bodies healthy.

Through consistent playtime, children can grow into strong, independent adults.

Access to Nature

Living in the city means limited access to nature's lakes, mountains, rivers, or other beautiful, wide-open spaces.

In rural areas, you can see the stars at night, hear a nearby creek flowing, see fireflies glowing, or watch the sunset. There's nothing quite like the beauty and peacefulness of nature and what it can do for you mentally and physically.

HOMESTAR's NATURALiving Home Mortgage Program

HOMESTAR's NATURALiving Home Mortgage program offers flexible financing solutions for unique metal-framed homes and properties with steel siding/roof, such as barndominiums, shop homes, or shed homes in addition to homes or hobby farms in the charming countryside.

Contact your local HOMESTAR Mortgage Loan Originator to learn more about NATURALiving home opportunities.