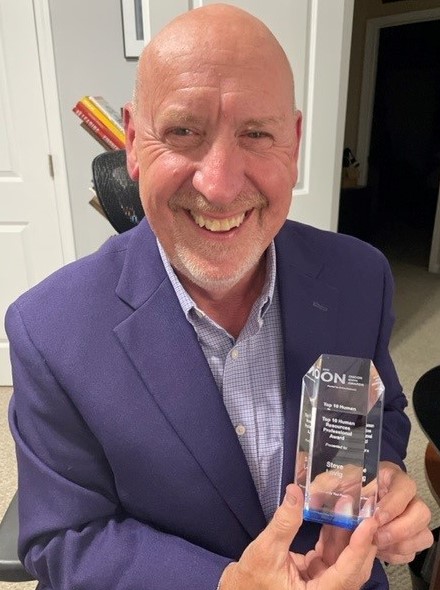 FOR IMMEDIATE RELEASE:
Steve Lovig, HOMESTAR's Own Captain HR, Recognized as One of the Top 10 HR Professionals in the World
GAINESVILLE, GA (March 14, 2022) – After thousands of votes were tallied, Steve Lovig – HOMESTAR's own Captain HR, has been recognized as one of the Top 10 HR Professionals in the entire world!
Steve Lovig joined HOMESTAR in 2016 as Director of Human Resources. Known as Captain HR for his unique, inspiring, and motivating style, he provides thought-leadership as a member of the Forbes HR Council, OnCon HR Executives Council, and a few others. Steve is a sought-after human resources leader, excelling at the development and execution of 'People Strategies' in support of HOMESTAR's overall business plan. Captain HR is honored to lead a team of HR professionals who, as a group, strive to proactively exceed expectations of management and employees in all roles at HOMESTAR and to consistently earn "Top Workplace" recognition.
About OnCon Icon Awards
The OnCon Icon Awards were presented to select HR professionals who demonstrated successes, made positive impacts on their organizations and strong contributions to the HR community with thought-leadership, innovation, and consistently exhibited exceptional leadership. All 2022 OnCon Icon award winners can be found here: www.onconferences.com/2022-hr-winners.
About HOMESTAR
HOMESTAR is a full-service mortgage banker controlling every aspect of the loan process with in-house processing, underwriting, closing, and funding of each mortgage transaction. Having an in-house team separates HOMESTAR from other mortgage companies because it is easier for HOMESTAR mortgage lenders to communicate quickly and effectively with every department needed to close a transaction.
HOMESTAR offers a variety of home mortgage solutions, including Conventional, FHA, USDA, VA, Jumbo, 203K, refinancing, RefiNow™ program, Cash Advantage program, NATURALiving Home Mortgage program, and more.
HOMESTAR's purpose is to maintain a strong reputation as an honest mortgage company offering outstanding customer service, exceptional community relationships, and a high level of employee satisfaction. HOMESTAR strives as a company to meet the needs and wants of its customers, ensuring their arrival at "the easiest way home."
Contact:
Steve Lovig, Director of Human Resources
Email: [email protected]
Phone: (470) 252-3610
Connect with Steve: www.linkedin.com/in/SteveLovig
www.homestarfc.com
Like Us on Facebook
Follow Us on Instagram
Find Us on LinkedIn
###