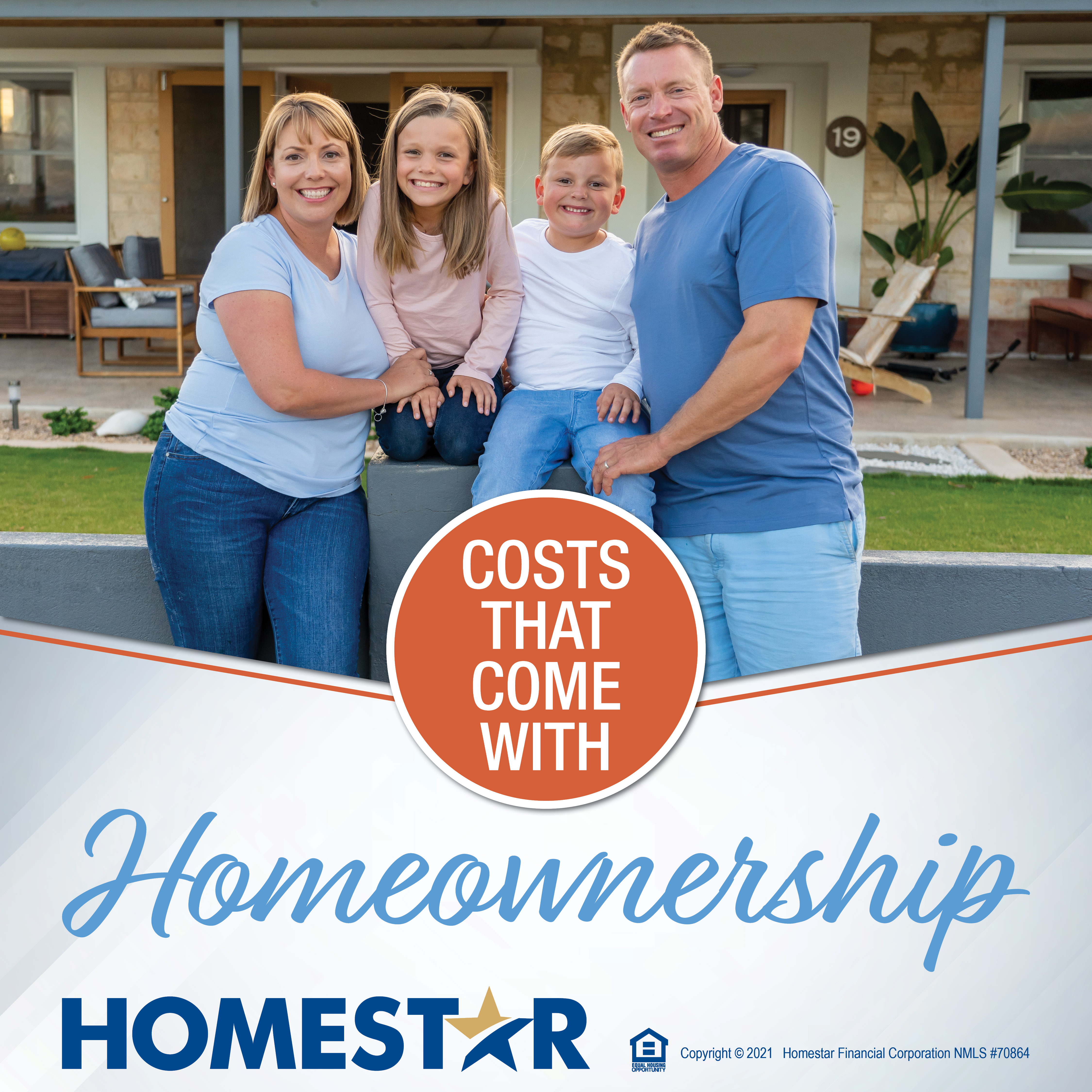 Beyond your monthly mortgage payment, owning a home involves additional costs – some that occur once, some ongoing, and some you may not need to address for a while.

Here are some of the costs that come with homeownership:

Down Payment

You may have heard that you need to put 20 percent down on a home, but that's a myth! Down payments can be as little as 0 percent, and there are Down Payment Assistance programs that may be able to assist you!

Closing Costs

Generally, closing costs can be 2-5% of the price of your new home and may include insurance, taxes, lender charges, escrow fees, and other costs. Check out this comparison of down payment vs. closing costs.

Moving Costs

Although it can be tempting to ask your family or friends to help you move into your new home, you're much better off letting the professionals handle it. Instead, ask your family and friends for recommendations of reliable movers in the area. Professional movers work efficiently and quickly, and your items (as well as the movers!) will be protected by insurance in case of damages or injuries.

Furniture

It isn't necessary to purchase new furniture when you move into your home. If you need some pieces of furniture to fill up your space, check out local thrift stores, yard sales, flea markets, Craigslist, and Facebook marketplace. You can find some great deals on second-hand furniture and repurpose them for a fraction of the cost of buying new.

Appliances

Typically, most large appliances will come with your new home, but you may need to purchase some (like a washer and dryer). If you need to buy or replace them, you can do so by looking around or asking your family and friends for gently used appliances before splurging on new ones. Save money wherever you can!

Homeowners Insurance

Homeowners insurance is incredibly important! It is insurance coverage for the full or fair value of your home. You purchase car insurance to protect you financially if involved in an accident, and you purchase life insurance to provide security for your loved ones. So, why not purchase homeowners insurance to protect one of the largest purchases in your lifetime? Here are the steps you can take to find the right homeowners insurance.

Private Mortgage Insurance

Remember how you don't have to put 20 percent down on a home? If you choose to put less than 20 percent down, you are required to get private mortgage insurance (PMI). If you don't pay for this coverage in full as part of your closing costs, you must pay it monthly as part of your mortgage payment. Learn more about PMI and how to avoid it or eventually stop paying it.

HOA Dues

If your home is within a Homeowners Association (HOA), you may have to pay monthly, quarterly, or yearly fees. These fees can pay for the upkeep of your community, including walkways, parks, lighting, pools, and more. Being a member of an HOA and paying these fees can increase your property's value because they ensure the community remains visually appealing.

Property Taxes

Every year you must pay property taxes on your home, which can vary depending on its value and location. Property taxes typically go toward public schools, parks, and roads. If the property taxes are not included in your monthly mortgage payment, you will receive an annual bill.

Utilities

When you go from renting to owning a home, there's an increase in the square footage – which means your gas and electric bills also increase. You'll also be responsible for paying for water, sewer, and garbage collection.

Pest Control

There's nothing worse than termites eating away at your home. And ants, roaches, spiders, and other unwanted pests invading it. Invest in monthly or quarterly pest control services to keep your home protected – avoiding it for too long could have disastrous consequences.

Yard Care

As a homeowner, it is essential to maintain the grounds of your home. This will prevent damage caused by hanging tree limbs, overgrown plants, too many leaves, and more. You can handle the yard work yourself (you'll need to have your own lawnmower, leaf blower, and other tools) or hire a professional (this can be more expensive, but up to you!). There are also other ways to add curb appeal to your home, like putting up a fence, painting the exterior, and more.

Maintenance and Repairs

When wear and tear on your home happens, you won't be able to call a landlord to come over and fix it for you. Be sure to plan ahead by setting aside extra funds for repairing or replacing your appliances, furnace, roof, HVAC, and more. Save these daily, weekly, monthly, and yearly maintenance (and cleaning) checklists to always keep your home in good health.

While homeownership comes with several costs, remember that it's a good long-term investment. Renting doesn't allow you to build equity, but instead the equity of the landlord (who wants that!?). As a homeowner, you can cash out the equity in your home to cover large expenses, like college tuition or home improvements. Other benefits as a homeowner include tax deductions and the freedom to do whatever you want to your home without needing permission first. You just can't beat that!