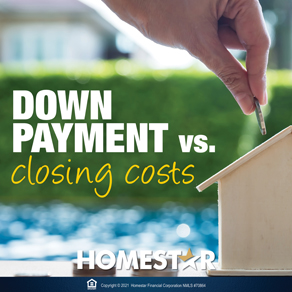 You may have heard that you need to have enough money saved for a down payment. But, what about closing costs? Aren't closing costs the same as a down payment? You might be surprised by the answer: they ARE NOT the same thing.

What's the difference between a down payment and closing costs?

A down payment is the amount of the purchase price you must pay that is not financed within the mortgage loan.
Down payments are typically paid at closing.
There are programs that can assist with down payments.
Closing costs are fees associated with purchasing a home, such as recording costs, appraisal fees, mortgage fees, and attorney fees.
Closing costs are typically 2-5% of your purchase price.
When refinancing, closing costs can be rolled into your mortgage payment.
Do I need to pay both a down payment and closing costs?
A down payment and closing costs are both generally the responsibility of the homebuyer. Although, you may be able to save some money on one or both. There are Down Payment Assistance programs that may be able to help you cover some or all of a down payment, and some programs offer help with closing costs.
How much money do I need for a down payment?
When it comes to a down payment, the amount is determined based on the type of mortgage loan and the percentage you choose to put down. It's a myth that you must put down 20 percent on a home; however, private mortgage insurance (PMI) is required if your down payment is less than 20 percent (check out these tips to avoid PMI). There are also several ways to purchase a home with little or no money out-of-pocket!
How much money do I need for closing costs?
There are circumstances where the seller may pay a portion or all of the closing costs. That will depend on what was agreed upon during negotiations for the home. Lender Credit can also offset closing costs but utilizing this option may leave you with a slightly higher interest rate.
Fees included in closing costs:
LOAN COSTS
A. Origination charges
Origination fees
Discount points
B. Services you cannot shop for
Appraisal fee
PMI (private mortgage insurance)
Flood certification fee
C. Services you can shop for
Title services and lender's title insurance
Inspection fees
Survey fee
Attorney fees
D. Total loan costs
Sum of all of the above to determine the total cost of the loan
OTHER COSTS
E. Taxes and other government fees
Recording fees
Transfer taxes
F. Prepaids
Homeowners insurance coverage
Prepaid interest
G. Initial escrow payment at closing
H. Other
Homeowners association transfer fee (if applicable)
Title insurance
Bottom line
Remember, it's always a great idea to set aside enough funds to cover both a down payment and closing costs, or speak with an experienced HOMESTAR Mortgage Loan Originator to discuss other options. How much you pay will be contingent on your specific situation.
Are you just getting started on your homebuying journey?
Download our Homebuyer's Guide to the Mortgage Process – a step-by-step resource with detailed information about the mortgage process.