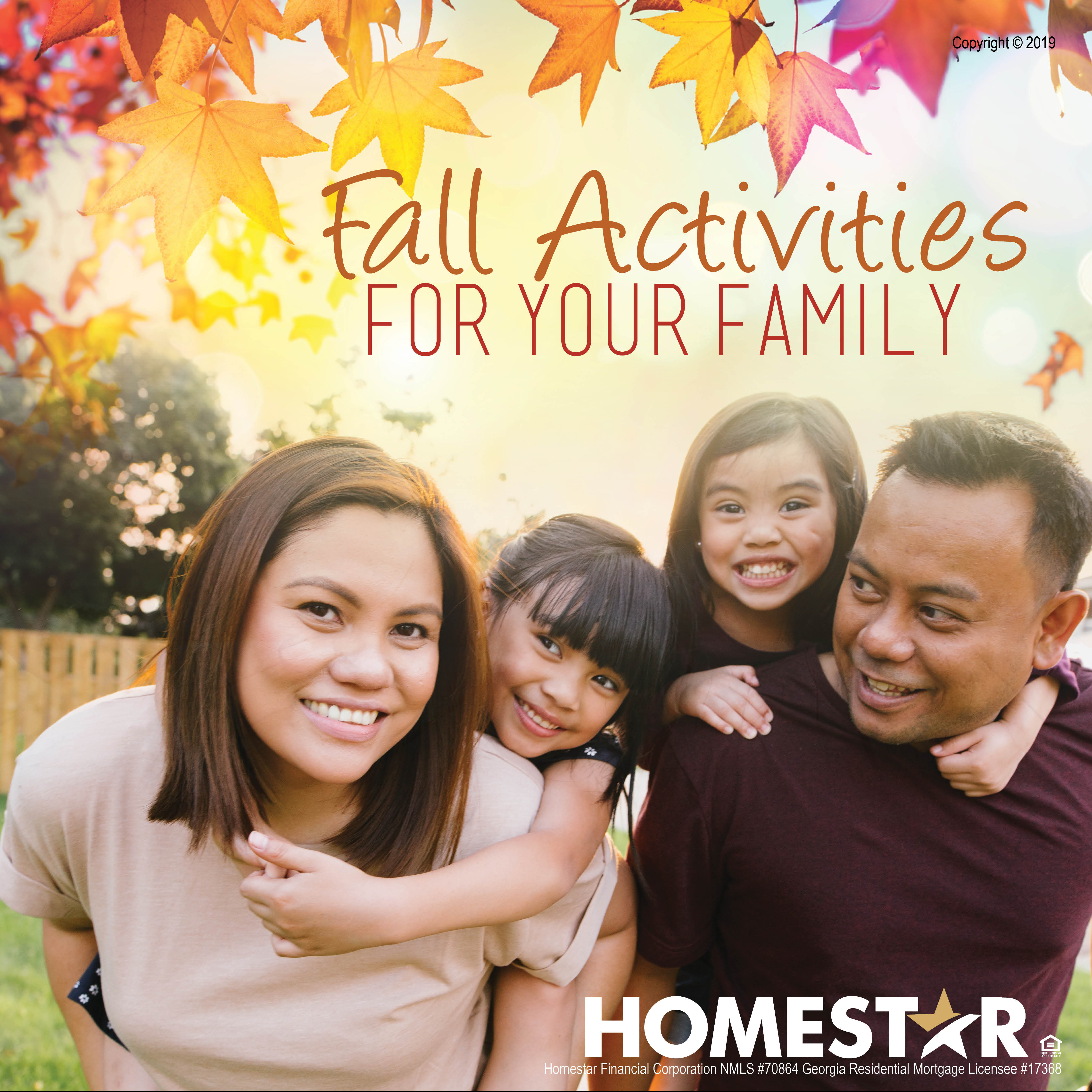 The summer is officially over and after the brutal heat, cooler weather has finally settled in. The autumn season brings a sense of simplicity and an appreciation for the small things; colorful leaves, pumpkin patches, autumn sunsets, and cool crisp days. This colorful season provides endless activities for families to enjoy together. With so much fall fun and only a little time to enjoy the season, we came up with some seasonal activities for your family to do this fall.

Go camping. Camping in the cooler weather is the perfect time to take advantage of fewer crowds and less bugs. Just make sure you pack flannels and extra blankets to keep warm during the chilly nights.

Plant tulip bulbs for the spring. According to The Old Farmer's Almanac, planting bulbs six to eight weeks before a hard frost will allow your flowers to bloom just in time for the spring season.

Carve pumpkins. This classic fall activity can be for all ages. Challenge your older kids with more complex carving ideas and try painted pumpkin crafts for your little ones.

Take a scenic drive. Some of nature's most beautiful scenes are during the fall (think of scenery in North GA and the Southeast Region). Pack the family into the car and enjoy a scenic drive for a fun and relaxing afternoon.

Visit a corn maze. Corn mazes can be a challenge and an adventure for both the kids and the adults. Many corn maze locations have additional activities as well, such as games, food, pumpkin patches, etc. Check out some of these corn mazes in the south.

Bake a fall-inspired dessert. Baking will be sure to get you in the fall spirit and your kids can have fun with helping you too! Try one of these delicious fall desserts from Country Living.

Go apple picking. Apple picking is fun and delicious! There are no shortages of apple orchards in the south. You can choose to visit an apple orchard close to home, or take an adventure to an orchard further away.

Visit a sunflower farm. Did you know that fall is sunflower season? Take your family to see these beautiful flowers in bloom during their prime. It might make for a great family photo op too!

Have a s'mores night. Gather your family for a cozy s'mores night. Make s'mores the traditional way around the fire or get creative and try one of these not-so-traditional s'mores recipes.

Dinner inside a pumpkin, anyone? Nothing says fall like eating dinner out of a pumpkin. This is the perfect dinner idea to involve the whole family. You will definitely need some extra help to carve out all those pumpkins! Try using this recipe from Country Living.

Have a scary movie night. If you want to have a fun and frightening night at home, try one of these kid-friendly scary movies for a scary family movie night.

Visit a local pumpkin farm. Pumpkin patches are a classic fall excursion and provide the best selection of pumpkins for carving. Try one of these spots for your pumpkin farm outing.

Take a long weekend getaway in the mountains. The mountains plus fall weather is the perfect combination to enjoy a quiet and relaxing weekend with your family. It's a great opportunity to enjoy fall scenery and drink hot cider!

Go to a Fall Festival. Fall Festivals are a fun way to entertain the kids and the adults. They are full of local foods, traditions, different cultures, and entertainment. Try one of these Fall Festivals in the South.

Take a hot-air balloon ride. Hot air balloon rides are a unique and adventurous experience. There is no better time to enjoy a scenic birds-eye view of nature than in the fall. From tours to festivals, there are plenty of opportunities to enjoy a hot-air balloon ride this fall.

Collect colorful fall leaves. Savor the beauty of autumn and use some free time to collect leaves with the kids.

Make your own costumes. Homemade DIY costumes don't have to take a ton of your time and they will give your kids a fun and creative activity to !

Go to a football game. Take your kids to a local high school game. If you're looking for more excitement, make a day out of it and go to a college football game.

Make the most of this autumn season and enjoy all that comes with it. We hope you enjoy this beautiful season with your family and loved ones!