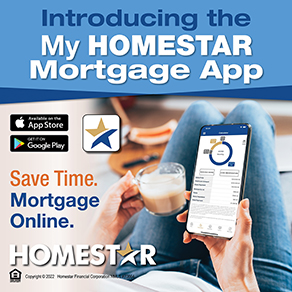 FOR IMMEDIATE RELEASE:
HOMESTAR Releases My HOMESTAR Mortgage App
GAINESVILLE, GA (February 7, 2022) – HOMESTAR, a Top Mortgage Purchase Lender Nationwide, is making the mortgage process even easier for its borrowers and realtor partners as they announce the release of their new app, the My HOMESTAR Mortgage app. The My HOMESTAR Mortgage app was developed by SimpleNexus, a homeownership platform uniting the people, systems, and stages of the mortgage process into a seamless end-to-end solution.
With the My HOMESTAR Mortgage app, borrowers can communicate with HOMESTAR team members or their realtor, submit a mortgage application, securely scan and upload documents, track the real-time status of their loan, and much more. HOMESTAR equips its borrowers with the tools they need to achieve their home financing goals, whether they are purchasing a new home or refinancing their current home.
Realtors can also add the My HOMESTAR Mortgage app to their arsenal of business tools. They can customize the app with their information to easily connect with clients wherever they go. In addition, when realtors put the My HOMESTAR Mortgage app in the hands of their clients, it can help close loans faster – all while keeping their brand front and center throughout the mortgage process.
"The SimpleNexus platform is incredibly user-friendly and intuitive for our Mortgage Loan Originators, borrowers, and realtor partners that on day one we witnessed the quick adoption of the My HOMESTAR Mortgage app," said Arlene Santiago, Technical Product Manager at HOMESTAR.
The My HOMESTAR Mortgage app is available to download for free on the App Store or Google Play Store.
Save time. Mortgage online.
About HOMESTAR
HOMESTAR is a full-service mortgage banker controlling every aspect of the loan process with in-house processing, underwriting, closing, and funding of each mortgage transaction. HOMESTAR offers a variety of home mortgage solutions, including Conventional, FHA, USDA, VA, Jumbo, Reverse, 203K, refinancing, RefiNow™ program, Cash Advantage program, and the NATURALiving Home Mortgage program.
HOMESTAR's purpose is to maintain a strong reputation as an honest mortgage company offering outstanding customer service, exceptional community relationships, and a high level of employee satisfaction. HOMESTAR strives as a company to meet the needs and wants of its customers, ensuring their arrival at "the easiest way home."
Contact:
HOMESTAR
Email: [email protected]
Phone: (770) 503-0380
www.homestarfc.com
Like Us on Facebook
Follow Us on Instagram
Find Us on LinkedIn
###