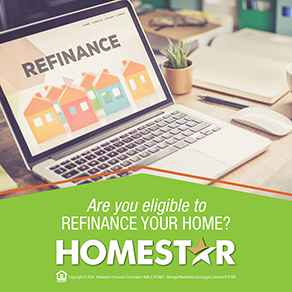 Do you know if you are eligible to refinance your home? Determining your eligibility for refinancing is similar to the approval process for a home loan. Your lender will consider your income, assets, credit score, other debts, the current value of your property, and the amount of money you would like to borrow.

Before you begin, ask yourself these questions:

1. Do I have a reliable source of income?

2. Do I pay my bills, loans, credit cards, and other debts on time?

3. Do I have enough funds available for a down payment and closing costs?

4. What is the market value of the property I would like to refinance?

The answers to these questions will help you determine if you are eligible to refinance. Then, you may begin the process of refinancing your home!

Here's what you can expect during the refinancing process, from initial application to closing:

1. Application - Much like an original mortgage application, this one gathers general information and requests documentation regarding your income and assets.

2. Processing - Your Mortgage Loan Originator will gather property information and request a credit report to verify your income and assets.

3. Underwriting and Approval - The Underwriter ensures all loan guidelines are met (or exceeded) by verifying the information provided. Keep in mind that additional documentation may be requested or "conditions" may be placed on the approval.

4. Closing/Funding - Based on approval, after any additional documentation or "conditions" have been fulfilled, your loan is cleared to close. Your closing will be scheduled and completed.

Below are some tips to help the refinancing process go smoothly:

DO:
Continue making your monthly mortgage payments.
Get your home ready for the appraisal.
Keep your most recent documents available (pay stubs and bank statements).
Keep in mind that more documentation will be needed during the refinancing process.
DON'T:
Apply for new credit.
Change jobs.
Make deposits that are not documented.
Begin new home improvement projects.
Be afraid to reach out with any questions.
If you have any questions regarding the refinancing process, contact a HOMESTAR Mortgage Loan Originator. It is our mission to help you find "the easiest way home!"
You can also learn more about refinancing with HOMESTAR here.