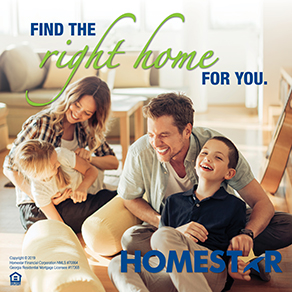 Finding the right home to purchase can present a lot of unforeseen challenges and can be a time consuming process. It is common for many people to rush through the homebuying process, leaving them unsatisfied with their new home. You can avoid this by taking the time to search for a home that best fits your needs and lifestyle. Do this by equipping yourself with the information you need to make an informed decision. While no two families or individuals will have an identical homebuying experience, being prepared and using the right resources will increase your chances of finding the best property for you. Below are some steps you should take to ensure that you are making the most of the home search and buying process.

Make a list of needs and wants. Before you begin searching for your new home, think about what you need in a home and what you want in a home. For example, it may be absolutely necessary for you to have a basement but it would be nice to have a pool in your backyard. Make a list so you have a guide to follow. These considerations will help narrow your house search and determine which house best meets your needs.

Consider all your options. Make sure you have considered all the properties that are legitimate options for you. One of the most accurate and useful tools is a Multiple Listing Service (MLS). A MLS is a private database of currently available homes for sale. It is created, maintained and paid for by real estate professionals. It also provides up-to-date information on the housing market. Typically, licensed real estate agents are the only ones who have access to the wealth of data that a MLS provides. However, you can still visit the database to see available listings and price points.

While we recommend working with a real estate agent to find a home, there are other free and available methods that allow you to conduct a house search. It is now easier than ever with access to websites like Zillow and Trulia to narrow your search to your specific criteria. Check out these other great sites that will help you in your online house search:
Homes.com
Realestate.com
Forsalebyowner.com
Homefinder.com
Redfin.com
Make sure you can afford it. This is one of the most important factors to consider. You should be one hundred percent certain that you can afford the home before you close on it. It is recommended that the cost of the house you purchase is no more than three times your annual household income. For example, if your annual income is $120,000, then your price range will be approximately $360,000. This will give you a general idea of what you can expect to be able to afford. However, it is best to talk to a Mortgage Loan Originator (HOMESTAR has many!) to know exactly what price range will suit your budget.
Visit the home multiple times. If you are genuinely interested in buying a particular property, it is wise to visit it again after your initial viewing. If you can, visit the home at different times of the day, such as the morning and the evening. This can provide a different perspective that you may not have had when you initially viewed the home. When you walk through the home again, do this privately, without a real estate agent accompanying you. This will allow you to form an unbiased perspective about the home and whether or not you feel comfortable in it.
Conduct a thorough walk-through. Before you commit to buying a home, walk through every single part of it. Check for damages and ensure all parts of the home work properly and are in good condition.
Walk through every room, including the garage and attic.
Turn on every faucet.
Open every closet and every door in the home.
Examine the floors, ceilings, and walls for damages.
Stand outside of the house to examine the exterior of the home, including gutters and roof.
Even if the condition of the house appears sufficient, don't make a commitment to purchase just yet. Have a professional inspector investigate the HVAC system, condition of the roof, chimney, and crawl space to ensure the property is move-in ready.
Check out the neighborhood. Scoping out the neighborhood before you purchase a home will give you an idea of whether or not you will feel comfortable there. Do you feel safe walking around in the neighborhood? Do the neighbors seem welcoming? You should also consider the school district where the property is located. Even if you don't have kids, this will affect the property's resale value.
Make a pros and cons checklist. As a homebuyer, consider the home you want and set criteria to meet these standards. Think about the size, layout, age of the house, condition, kitchen layout, etc. With each house that you consider, make a checklist of the pros and cons to evaluate all aspects of it to determine if it meets your standards. If not, it's okay to keep searching for the right house… even if it takes a little more time.
Other tips for finding your new home:
Pay attention to location and layout.
Consider the size.
Be realistic.
Think long-term.
Evaluate the appreciation of the property.
Since purchasing a home is one of the biggest decisions you will make in your lifetime, make sure you take the time you need to search for the right one. Gather all the information you can on all the homes you are interested in and do your homework. Commit to working hard, so you can enjoy a happy life in your new dream home.
Sources:
http://www.saveoutsidethebox.com/make-sure-its-the-right-house-to-buy/
https://www.investopedia.com/terms/m/multiple-listing-service-mls.asp