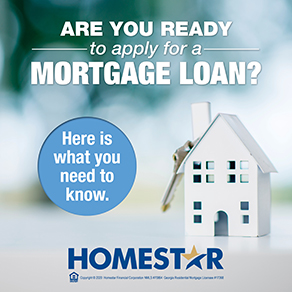 You've dreamed about owning your own home and have decided you're ready to take the first step – applying for a mortgage loan. Before you begin your journey to homeownership, it's a good idea to understand ahead of time what all you will need in order to qualify. By doing so, you will save a lot of time and heartache, ensuring a smooth mortgage process from start to finish and, ultimately, purchasing your dream home.

Here's what you need to know about qualifying for a mortgage loan:

1. Determine how much home you can afford.

Before you submit your application, you will want to decide how much home you can afford and what you are comfortable paying each month for your mortgage. You will need to factor in taxes, insurance, maintenance, and other expenses.

A good rule to follow is the 28 percent/36 percent rule. Essentially, your mortgage payment (including the insurance, taxes, etc.) should not exceed more than 28 percent of your pre-tax income, and your total debt (car payment, student loans, etc.) should not exceed 36 percent of your pre-tax income. You may qualify for a higher percentage than this depending on your credit score, debt, income, etc.

2. Show that you have a steady income and it is sufficient.

Lenders will typically check your employment history, as they prefer to lend to borrowers with a steady income.

Other things to keep in mind:
During the loan process, please ensure that you do not switch jobs.
If you recently changed jobs, a lender may contact the employer to verify your employment. A lender may also ask for the reason why you recently switched jobs.
If you are self-employed, additional paperwork may be required regarding your business and income.
3. Keep track of your credit history and check it often and thoroughly.
You can obtain a free credit report at AnnualCreditReport.com and contact the bureaus to correct any mistakes, as many people have items on their credit report they were not aware of.
Credit plays a very important role, so a lender will take into consideration if:
Your credit score is considered good.
You have a history of late payments, bankruptcy, collections, etc.
Your credit cards are maxed out.
You have excessive monthly payments.
Essentially, the higher your credit score, the more likely you will be able to qualify for a mortgage loan. There are many ways that you can improve or maintain a good credit score, such as making payments on time, keeping balances low on credit cards, and more.
If your credit score is low and you work with a lender to obtain a mortgage loan, they may require a larger down payment or you may receive a higher interest rate.
4. Reduce your debt.
If your monthly debt is too high to afford a monthly mortgage payment, you may not qualify for a mortgage loan. Lenders look at two things:
The percentage of your gross monthly income that will be your house payment (principal, interest, property taxes, homeowners insurance).
The percentage of your gross monthly income that will be taken up by your house payment in addition to monthly payments (student loans, credit cards, car payments).
Decreasing your debt will allow you to qualify for a higher loan amount.
5. Have money saved up.
Saving your money to apply it to a down payment will help reduce the amount you need to borrow. Depending on the loan type, you may need to reach a down payment threshold in order to qualify for that particular loan type.
However, some loans require no down payment. Paying down 20 percent or more will also eliminate private mortgage insurance (PMI), which is typically required on loans with a down payment of less than 20 percent.
6. Have all documents ready.
You will need to prove to lenders that you can afford a mortgage loan by providing the following documents when applying:
Identification – photo of driver's license(s)
Most recent 30 days of pay stub(s)
Phone number for your HR Department/Supervisor
W-2s for most recent two years
First page of most recently filed 1040 tax return with your name and address
Most recent 60 days bank statements (all pages; if computer generated, must reference full name and account number)
Most recent 401(k)/retirement statement
Awards letter for other income – retirement, pension, SSI, disability, or VA benefits
Although it seems like qualifying for a mortgage loan is difficult, our Mortgage Loan Originators are here to help. They can guide you on everything you will need in order to qualify for a mortgage loan, such as increasing your credit score, determining how much home you can afford, gathering the right documents, and more.
Contact your local branch today to get started. We are here to help get you home!