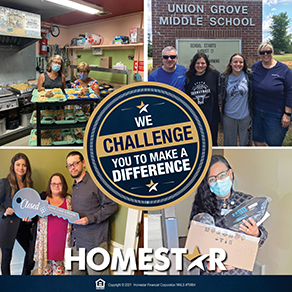 How HOMESTAR Gave Back in 2020
At HOMESTAR, we are passionate about serving others and giving back to our local communities. Throughout the year, HOMESTAR's Corporate Offices hold fundraisers to raise donations for various charitable organizations.
HOMESTAR developed the HOMESTARCares program to regularly share opportunities and encourage employees to volunteer, participate in events, and raise funds to provide for the communities in which they serve.
Despite the challenges 2020 presented us, HOMESTAR and our employees were able to safely contribute to those in need, from providing food to the amazing individuals on the frontlines to donating masks to healthcare workers, and much more.
HOMESTAR and our employees are proud to share the meaningful ways we gave back in 2020:
At HOMESTAR's 2020 Annual Ball, employees donated $14,885 to Feeding America and Habitat for Humanity.
As a company, HOMESTAR donated $23,000 to the Georgia Mountain Food Bank, Habitat for Humanity, Circle of Hope, the Shepherd's Center, and the Center for the Visually Impaired. HOMESTAR also sponsored the Hall County Heart Walk and the Georgia Mountain Food Bank's Empty Bowl Lunch.
Employees collectively donated approximately $1,800 per paycheck to various organizations, which provided families in our communities access to healthy food, safe and affordable housing, and peace of mind.
Employees donated $886 to the local homeless shelter.
Branches participated in Jennifer's Pizza Challenge, where 844 pizzas were provided to the amazing individuals on the frontlines at hospitals, police departments, and fire stations.
Employees donated 600 masks to healthcare workers at Northeast Georgia Health System and the Good News Clinic.
Employees donated, volunteered, and partnered with Habitat for Humanity of Hall County, providing a home for a borrower and sponsoring a new home for the Buffington family in early 2021.
Employees donated toward Breast Cancer Awareness and the Salvation Army's Angel Tree program and ran local canned food drives.
Branches donated snacks to local businesses, delivered school supplies to teachers and their students, delivered meals to senior citizens, participated in cleaning up the environment, provided supplies to local animal shelters, taught free financial classes, collected supplies for children in need, provided gifts during the holidays, and more.
Branches donated to organizations in their local communities, including Sjögren's Foundation, AGL Foundation, Paulding Cops for Kids, Inc., Jack and Jill Foundation, Veterans of Foreign Wars, Cystic Fibrosis Foundation, local churches, and many others.
And much more!
Your community is ours too… because building strong communities together makes them better places for families to thrive.