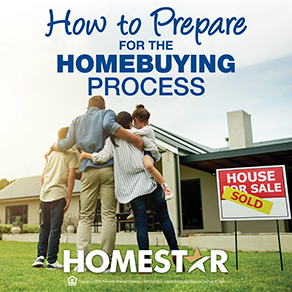 After much consideration, you've finally made the decision that you want to buy a home. Whether it's your first home or your fifth, you may feel overwhelmed and nervous along with your initial excitement. In reality, it doesn't matter how many times you have gone through the homebuying process, there will always be a mixture of these emotions going through your head.

With that being said, take these helpful tips we've provided into consideration. Following this guide can make the process easier and help you to feel more confident about the homebuying process.

1. Know your needs from your wants.

Make two lists, a needs list and a wants list, to help you decide what you can and can't live without in your new home. On your wants list, include anything you could imagine your ideal home having. While on your needs list, simply include the top FIVE things that you believe are absolutely necessary to have in your home. During your homebuying process focus on your needs over your wants.

There is not a strong likelihood of finding your dream home with everything you want, but if you focus on what is crucial for you, your home can be everything you want it to be. Besides, there is always time for renovations and improvement once the house is yours!

2. Where do you want to be located?

Location is a very important aspect of the homebuying process that needs to be taken into consideration. Some people prefer to be in the middle of town where they can be close to the grocery store, hospital, school, etc. Others however, would much rather reside outside of the city where things are on the quieter side. Consider the pros and cons of each home location during your search to ensure you're making the right decision.

3. Keep your children and pets in mind.

If you have children and/or pets, keep them in mind as well during your homebuying process. Will you need a big backyard for your dog to run around in? Or maybe a room that can be transformed into a playroom for your kids? Whatever the case may be, make sure to take those "must haves" into account when you're on the search.

4. Don't forget the outside costs.

The homebuying process can get really exciting once you get pre-approved and are clear to start exploring home options. However, it is very important to be calm, cool, and collected during this process. Do not get too attached! There will most likely be some homes you discover that you absolutely fall in love with. But nevertheless, you need to consider the cost of property taxes, utilities, and how much it will be to furnish the home before you decide it's the one for you. We know this can be difficult, but by taking the time to consider all outside costs of your home, you will be able to make a better informed decision on what you can and can't handle.

5. Check out the neighborhood.

One of the most important things to watch out for while looking for a home is what kind of neighborhood it's in. Drive through the neighborhood at different times of the day to see what kind of activity goes on. Are your potential neighbors throwing parties all the time? Is it a child friendly neighborhood? It will be beneficial to get an idea of what the neighborhood is like to help with the decision making.

6. Do not get discouraged.

Last, but not least, always keep an encouraging and cheerful spirit! It can be easy to lose hope if the process goes on longer than expected or if something doesn't go your way. However, having a positive mindset and having confidence is the best way to keep yourself from becoming stressed or overwhelmed.

Buying a home can be one of the most exciting times in your life, so enjoy the process! And when you finally find the one, you'll realize that any part of the process that felt strenuous was completely worth it in the end!

Are you ready to apply for a loan? Find a branch near you today to get started.