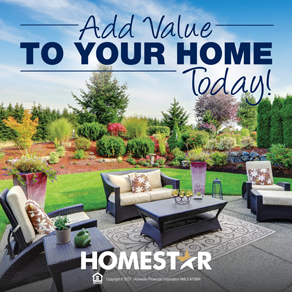 Wise homeowners invest in their homes to improve their lives personally and financially.

You can do several things to your home now and over the years to add value – leaving you feeling confident when the time may come that you decide to sell. They can be as simple as updating hardware or as intricate as building an outdoor patio.

Here are 25 ways you can add value to your home, starting today:
Take care of minor repairs needed.
Update the kitchen hardware.
Paint, resurface, or replace the kitchen cabinets.
Update appliances and windows with energy-efficient ones.
Install new countertops, recessed lighting, and wall switches in the kitchen.
Replace all fixtures in the home.
Enhance walls with wood paneling.
Build new shelving or get creative with storage in the laundry room, kitchen, garage, closets, etc.
Re-grout tile or reglaze tubs in the bathrooms.
Install or refinish hardwood floors and replace all carpet.
Replace or repaint the doors, windows, garage door, etc.
Paint the garage or basement floor to lighten things up.
Power wash the home's exterior.
Repaint the inside and outside of the home.
Install outdoor lighting.
Improve the landscaping by adding trees, flowers, shrubs, etc.
Build an outdoor patio, install a fire pit, or build a deck.
DIY beautiful outdoor planters.
DIY customized furniture to maximize space.
Add stone veneer to enhance the home's exterior.
Add insulation to the attic or basement.
Finish the basement and add a new room, create a family hangout area, etc.
Replace the roof, especially if there are signs of leaking, broken shingles, rotting, and more.
Invest in smart home technology, such as a thermostat, door locks, etc.
Open up the floor plan by removing or moving walls.
You may be wondering the best way to pay for improvements that add value to your home. The answer is simple – try to use cash when you can! Save up for home improvements that may be a bit more costly.
Another option is to refinance your home and use the extra money toward home improvements. Contact your local HOMESTAR Mortgage Loan Originator for more information about refinancing your home today!