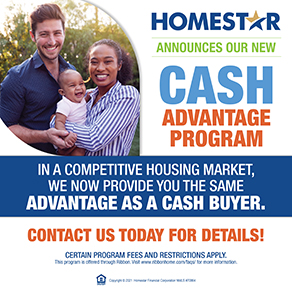 Now you can have the same advantage as a cash buyer, which is crucial in today's HOT housing market. HOMESTAR is proud to offer the Cash Advantage program for homebuyers and home sellers!

See if this program is right for you and how it can help you purchase the home you've always wanted. Make your initial offer the winning offer!

This program is best for:
Buyers who need to downsize, upsize, or relocate
Those who want to buy before they sell
Anyone wanting to break the rent cycle
All buyers who need a flexible or fast move-in timeline
Benefits of the program:
Stop paying rent and invest in a home
Move into your new home without having to wait until your current one sells
Improves your chances of your offer being accepted
On-time closing is guaranteed
Certain program fees and restrictions apply. Contact your local HOMESTAR Mortgage Loan Originator today for complete details. It's time to use the HOMESTAR Cash Advantage program to achieve homeownership!
This program is offered through Ribbon. Visit www.ribbonhome.com/faqs/ for more information.