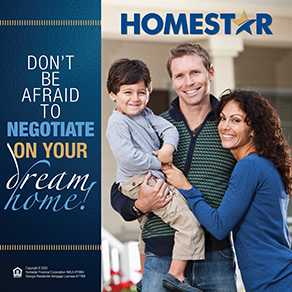 Have you found your dream home, but the price isn't quite right? Don't be afraid to negotiate!

Negotiation is key to scoring the right home at the right price. Here are 10 things you need to do when negotiating the price on your dream home:

1. Get your finances organized.

To avoid appearing disorganized to the seller, get your finances together and prove that you can commit to the offer. Pre-qualification helps when making an offer on a home. It gives you a leg up, as the seller will know that you are serious and fully committed to the purchase.

2. Research and find the right agent.

Agents are experts in the field of negotiation, and they can help you put together a solid offer on your dream home. They are also effective at communicating between buyers and sellers to accomplish the same goal: a deal that makes everyone happy. Research and interview several agents, asking about their experience with negotiating prices on homes, their approach, communication skills, tactics, resources, and more.

3. Understand the current market.

The amount of room you have to negotiate will depend on the current market. Many factors should be taken into consideration, such as the location, the quality of surrounding houses, current inventory, interest rates, closeness to local attractions, and more. Have your agent help you with this!

4. Prepare and know about your opponents.

Don't go into the homebuying process unaware of your opponents. Speak with your agent to uncover information about existing offers. Use every bit of information to help you make the best offer you can and negotiate a fair price.

5. Be creative.
It's a competitive market out there. Price isn't the only thing you can focus on during negotiation. You don't always need to submit the highest bid, as you can offer a greater deposit of earnest money (a deposit of good faith paid to the seller showing that you are serious about purchasing the home), work out a deal on repairs, request the seller pay closing costs, leave appliances, and more.

6. Get personal.

Take things to the next level with your offer by getting personal. A home is a place filled with memories, and the seller may have a deep connection with the home. Make your offer stand out amongst the rest by including a letter with your offer detailing why this is your dream home, how you plan to use the home, or how you and your family will treasure it for many years to come.

7. Utilize a home inspection and appraisal to your advantage.

With an inspection, a detailed examination of the condition of the home, negotiation will depend on the current housing demand surrounding the home and if issues are found. If the home has issues, it helps you renegotiate the price or ask the seller to make repairs before the sale is completed.

Once the home is under contract, an appraisal will determine the property's value as the lender will not lend you more than the home is worth. If the appraisal comes back at or above the sales price, the sale will move forward. If it is below the sales price, it can delay or end the sale. However, a lower appraisal means that you can negotiate the final price.

8. Always ask questions.

The more you know about the seller, the more successfully you can negotiate the price you want. Check-in with your agent to see what the seller's motivating factor is for selling their home. Use that to your advantage.

9. Don't be afraid to make a lower offer.

If the home is already within your budget, don't hesitate to submit a lower offer. Just don't go too low to avoid insulting the seller. Make a reasonable offer based on information from your agent and the research you've done. You will know you went in too low if the seller does not counter back with a new offer. But, don't let that hold you back from submitting a new offer.

10. Walk away if it isn't quite right.

When you know, you know. In some cases, you may encounter a seller that won't work with you. And, it could be for any reason. Although the home may be tempting, don't let it put you in an uncomfortable situation by going over your budget. It's best to prepare yourself ahead of time that you may need to walk away from every home until you find the right one. You will know when you find the one that was always meant to be.

If you need help getting started with the mortgage process and pre-qualification, contact a HOMESTAR Mortgage Loan Originator today. HOMESTAR is here for you every step of the way—from the initial application to a successful closing.