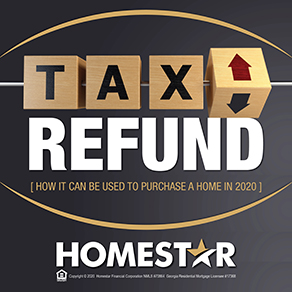 Make 2020 your year to buy a home! If you are currently renting, looking to purchase your first home, or want to invest in a second/vacation home, using your tax refund is a great first step. If you are expecting a refund this year, now is the time to think about how you can use those funds to fulfill your resolution of becoming a homeowner in 2020.

Here are 5 ways a tax refund can help get you home:

1. Pay down debt. Your credit score is a key factor in determining your mortgage rate. An easy way to increase your credit score is to pay off high-interest credit card debt. Remember, you still need credit, so don't close any lines of credit without confirming with a professional beforehand.

2. Save for a down payment. A down payment doesn't have to be a big barrier when it comes to homeownership. However, 20 percent down is a myth! Depending on your credit history, along with other factors, many borrowers make a down payment between 5 to 10 percent — with some mortgage loans a down payment can be even less than that or 0 percent!

3. Cover the cost of a home inspection. A home inspection is a report of the overall condition of a home — often paid for by the potential homebuyer.

4. Pay for closing costs. Homebuyers will typically pay between 2 and 5 percent of the home purchase price in closing fees, which can become costly and vary depending on your location.

5. Save for home maintenance. Purchasing a home comes with the responsibility of upkeep, so having some extra funds can be a huge help. You want to ensure your home runs smoothly; after all, it's a big purchase!

As you begin thinking about your tax refund, remember that you worked hard for a refund — so reward yourself with a new home!

HOMESTAR can help you find "the easiest way home!" Contact a local Mortgage Loan Originator to learn more and determine the right mortgage loan for you!