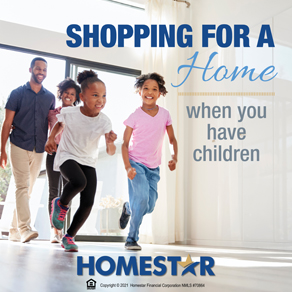 Buying a home is exciting, but it can also feel overwhelming when you have little ones. All parents want to provide the best for their children, including the perfect home to raise them in. There are 5 things to consider when house hunting to ensure you give yourself and your children the safety, security, and freedom needed every day.

1. Schools: Visit local schools and review their ratings to assess the education and programs. Use a website like org to help you with your research. In addition, the school district where your home resides can also affect its future resale value.

2. Location: This is one of the most critical aspects of finding the right home for you and your family. Location can include the proximity to schools and other amenities (doctor's offices, parks, and grocery stores), the street where the home is located (close to roads or on a quiet cul-de-sac), the local community, and more.

3. Neighborhood: Visit your desired neighborhood on different days of the week and at different times of the day to get a better feel for the area. Is the area safe? Research crime statistics for the potential neighborhood you will live in using a free online tool like CityProtect or Family Watchdog.

4. House size and floor plan: Find a home big enough to accommodate your family now and in the future if you plan to grow your family. The floor plan is also important as it needs to fit your lifestyle – think about the location of rooms, number of bedrooms and bathrooms, size of the kitchen, space for privacy, etc.

5. Safety: When you have young children, safety is essential. When touring homes, evaluate how safe it is and if you can easily childproof it. Areas to keep in mind are stairs, balconies, slippery surfaces (like tile floors), a swimming pool, an open yard with no fence, etc.

For parents, these are essential elements that create the perfect home: a secure, comfy, and happy place to thrive and grow together.

Ready to begin the homebuying journey? Learn more about HOMESTAR's mortgage loan programs to help you get an idea of which may fit your family's needs. Contact an experienced HOMESTAR Mortgage Loan Originator today to get started!