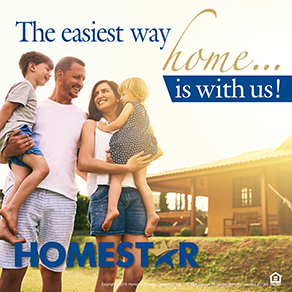 Buying a house is not your everyday purchase and as thrilling as it can be, there may be many moments of fear involved in the process. Don't worry, it is completely normal to feel a bit overwhelmed during the homebuying process, as this will most likely be one of the largest financial commitments you make. However, as long as you are well-informed about the process and have a plan set in place, there is no need to be afraid.

Fear #1: I haven't saved a 20 percent down payment.

Many people believe that you cannot buy a home without a significant down payment. A common myth often told in the mortgage industry is that you have to make a 20 percent down payment when purchasing a home. Putting 20 percent down may save you money in the long run and for some, is an ideal option; however, it's not always a feasible one. Choosing the appropriate loan for your down payment needs is more important that making a 20 percent down payment. Whether you are a first-time homebuyer or you are relocating to a different home, HOMESTAR offers several loan options designed to fit your individual needs.

Fear #2: I can't afford a home.

One of the most common fears people have about buying a home is wondering how they will afford the home. They may think that a mortgage payment will cost more than what they are currently paying to rent. Before you take on a home loan, create a budget so you know what your current expenses are and how much money you can spend on a mortgage payment each month. You will also need to think about the additional expenses that will come with being a homeowner, such as water, trash, lawn care, and home maintenance that will factor into your budget.

Fear #3: I don't want to overspend.

The asking price for a home is just that - what the sellers are asking for. If you are working with a real estate agent, they will guide you to make the most realistic offer on a home. An agent will know what the price points are in an area and can back them up with historical data. You can also research the prices of homes that have recently sold in an area. This can help you make the most reasonable offer.

Fear #4: I have other loans and/or debt.

Just because you have existing debt from credit cards and/or student loans, does not mean that you cannot obtain a mortgage loan. Mortgage Loan Originators will work with you to figure out what the best loan option is for your current needs. While it may not sound ideal to buy a home when you are currently paying off other debt, real estate is always a sound investment. As you pay your mortgage and/or as the value of your property increases, you will build equity in your home. Over time the equity you have built may be used toward paying off debt (or other expenses) in the future.

Fear #5: I am worried I won't be able to afford maintenance costs.

If you own a home, you will have to pay for the upkeep costs involved. Many homes can have large maintenance bills. While there is no way to avoid these costs, there are several things you can do to mitigate and prepare for them:
Buy a home that has been well-maintained.
Buy a brand new home.
Buy a home with recent upgrades or one that has had major components replaced.
Maintain your home regularly to prevent small problems from becoming large maintenance issues.
Given the circumstances, these fears of buying a home are common in many people, especially if you're a first-time homebuyer. As you go through the homebuying process, take the time to ask questions and understand the process. Buying a house may seem terrifying, but knowing that it is a sound investment and there are practical financial options available, should help put your biggest fears to rest.
Sources:
https://www.realtor.com/advice/buy/terrified-to-buy-a-home/
https://campbellhomes.com/blog/5-reasons-people-are-afraid-to-buy-a-home-and-why-they-shouldnt-be/