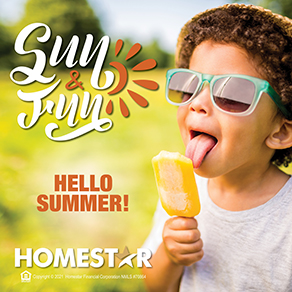 Summer is here, which means it's time to get outdoors and soak up some sun! There are tons of family-friendly activities you can do with your child(ren) that are either free or affordable – and, of course, fun!

Here are some of our favorite family-friendly summer activities:

1. Change out the decor of your home from spring-themed to summer-themed.

2. Visit your local library and check out books about the summer season, or sign up for their summer reading program.

3. Enjoy breakfast, lunch, or dinner outside on the porch or a blanket in the backyard.

4. Go on a nature hike and identify birds, wildflowers, insects, animal tracks, and more!

5. Visit your local farmers' market and pick homegrown strawberries, blueberries, and other fresh fruits and veggies.

6. Stay active (and get some exercise!) by playing catch or tag, swimming, or going on a bike ride.

7. Plant a garden or pick some flowers.

8. Visit the local zoo and enjoy observing and learning about all of the animals.

9. Explore your local park or botanical garden.

10. Attend a sporting event – baseball is in full swing!

11. Build a backyard obstacle course with hula hoops, pool noodles, or other items around your home.

12. Set up a tent in the backyard for a fun night of camping and stargazing. Don't forget the s'mores!

13. Enjoy DIY crafts such as painting rocks, making a bird feeder, or collecting leaves to create a fun work of art to display!

14. Tour your hometown by visiting local landmarks and researching their history.

15. Give back to your local community by collecting canned goods, donating toys to the Salvation Army, helping out at the animal shelter, or cleaning up the local park.

16. Have fun with sidewalk chalk and play hopscotch, tic-tac-toe, or other fun games.

17. Cool off with a water balloon fight, slide down a waterslide, or run through the sprinkler.

18. Sit or lay on the ground with your child(ren) and identify shapes in the clouds.

19. Make delicious summer sweet treats together like cotton candy, banana splits, or snowcones.

20. The most simple (and best!) activity you can do is watch the sunrise and sunset together. Nothing beats the beauty of nature and quality time together!

We hope you have an amazing summer filled with lots of sunshine, laughter, and memories that you will remember forever!