At HOMESTAR, we understand the importance of giving back to our communities that give so much to us. The last three years have been hard for many families and individuals in the communities that we work in, send our kids to school in, and where we have friends and family in. We give back because, in a strong community, everyone prospers together. HOMESTAR supports organizations that enrich the lives of those in the communities where we live and work. #HOMESTARCares
Here are just a few of the many ways our teams and fellow employees gave back in 2022:
At HOMESTAR's Award Ceremony & Ball in 2022, HOMESTAR as a company pledged $14,500 in donations to various charities, including the National Brain Tumor Society in memory of Donna Broaddus and the American Diabetes Association in memory of Rhonda Hunt. Both Donna and Rhonda were well-loved HOMESTAR employees. HOMESTAR was proud to honor their memory with a donation to these charities. We also continued our support of Feeding America, the largest domestic hunger-relief organization, serving over 250 local food banks around the country.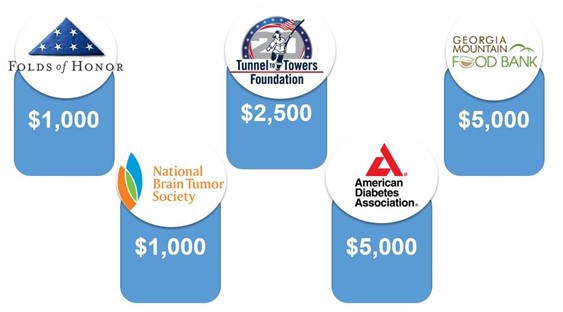 HOMESTAR employees pledged over $80,000 to Feeding America through a one-time donation at the Award Ceremony & Ball or through a recurring payroll donation throughout the year. At 10 meals per dollar, that's over 800,000 meals provided by HOMESTAR Nation! That is an incredible feat and will go a very long way to help thousands of hard-working families who struggle to put food on the table.
The Tifton, GA Branch completed a unique project supporting local teachers! Branch Manager Keith Queen and his team realized that many teachers have to pay for classroom supplies out of their own pockets and often can't afford to provide all of the supplies their students need. To help, Keith's team created an application where teachers could apply to receive a grant to cover classroom expenses. In the end, three teachers were selected, each receiving a $1,000 grant from Keith's branch. The teachers were extremely appreciative and were able to purchase much-needed equipment and supplies. On behalf of his team, HOMESTAR donated $250 to Called to Care, an organization in Tifton that provides foster children in need with school supplies.
The Patti Hale team donated to Morningstar, an organization that provides counseling services to children and families in crisis. Patti's team raised $1,800 to provide Christmas gifts for the organization's staff, who have been working in overdrive to serve families in need. Thanks to Patti and her team for their thoughtfulness and generosity! On behalf of their service, HOMESTAR donated $250 to Morningstar.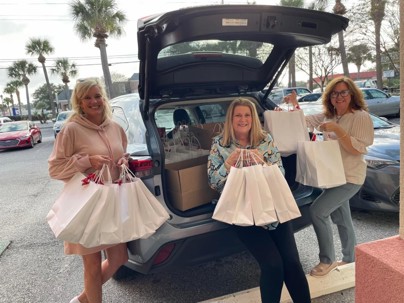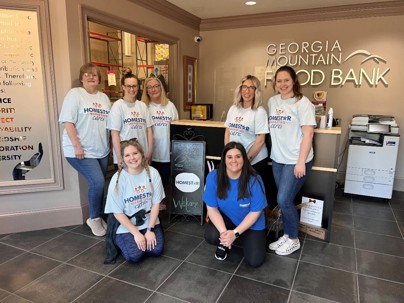 The Marketing team has continually been an advocate for the Georgia Mountain Food Bank and got to volunteer quarterly this year by sorting donated food at the warehouse. Many team members also brought their own food donations to contribute, and the team as a whole decided to donate a monetary department award to the Georgia Mountain Food Bank (GMFB). HOMESTAR donated $250 to the GMFB on behalf of Marketing's service.
Division Operations Supervisor Stacey Jones became a member of the Executive Leadership team for the luncheon for the American Heart Association, which is held every February to raise money for local education and programs. A handful of HOMESTAR employees also donated to this cause. Visit www.heart.org for more information on heart health. HOMESTAR donated $250 to the Northeast Georgia American Heart Association on behalf of her service.
Stephanie Martin started a meal train after meeting a neighbor whose husband was recently diagnosed with ALS, a progressive neurodegenerative disease. After Stephanie saw how difficult it was for her neighbor to be a full-time caretaker, mother, and employee, she decided to jump into action by organizing a meal train for the family! HOMESTAR donated $250 to the Georgia Chapter of the ALS Association on her behalf.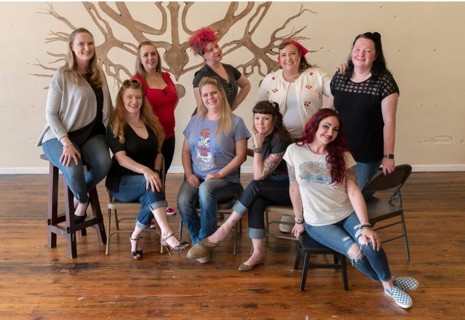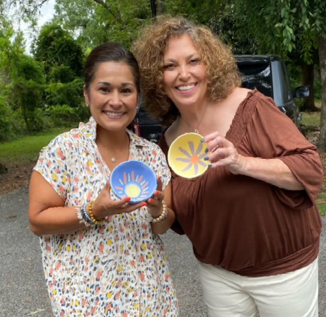 Division Operations Manager Amanda Dunn is part of the "GainesVegas Pinups," a group of Gainesville, GA women who share a love of retro fashion, photography, and philanthropy. This year, in addition to their calendar sale, Amanda and the group completed a prom dress drive, providing over 80 prom dresses along with makeup and accessories for high school girls who couldn't otherwise afford them. She also participated in an 80s prom charity event benefiting Rock Goodbye Angel, a local non-profit that helps parents who experience the loss of a child during and post-pregnancy. Amanda and the Gainesvegas Pinups provided a platinum sponsorship of the event and made a $1,000 donation to the organization, in addition to helping their colleague raise $500 in donations to be Prom Queen of the night. On behalf of Amanda and her team of ladies, HOMESTAR donated $250 to Gateway Domestic Violence Center.
Each year, many of our teams and branches support the Georgia Mountain Food Bank's "Paint a Bowl! Help Fill a Bowl!" This luncheon helps raise funds to provide meals for those struggling with hunger. Those attending the luncheon received a bowl to paint and take home, as a reminder of the empty bowls that are filled with funds raised at the luncheon. The Jennifer Sims Team, Marketing, Underwriting, and other support staff and departments also participated in this event raising over $1,200.
The Candice Crook Team in Jefferson, GA has been involved with the nonprofit, Extra Special People, an organization dedicated to providing recreational and educational opportunities to people with disabilities. Candice's team is also involved with Java Joy, the organization's coffee shop that trains and employs adults with disabilities. The Crook Team has supported Java Joy locations in their community and has also hosted Java Joy's mobile coffee truck at their office for community members to enjoy. Thanks to Candice's team for their enthusiastic volunteerism! On behalf of Candice and her team, HOMESTAR donated $250 to Extra Special People.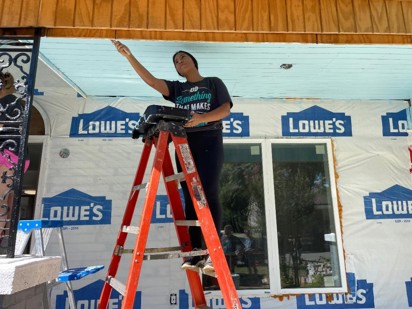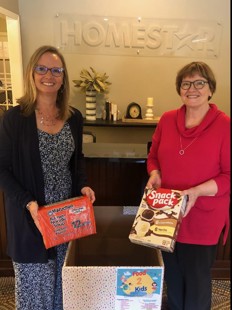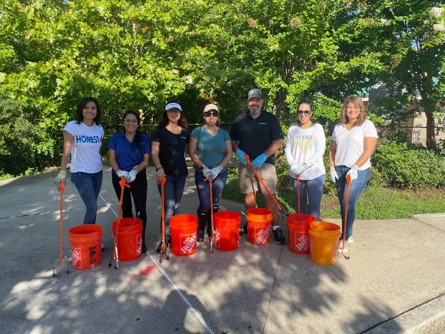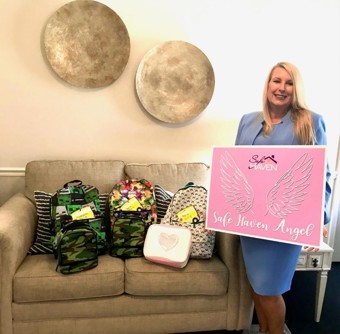 The Cesar Pacheco Branch in Duluth, GA came up with the impactful idea to come together as a team to tackle litter in their local park in Gwinnett County. This idea came about in one of their meetings when brainstorming on how the team could do more activities as a group. The Duluth Branch happily took the first step and set out with garbage bags and buckets in hand to a local park to start cleaning up! They are looking to continue to serve their community by cleaning up parks once a month with their team and want to branch out to other counties as well.
The Statesboro, GA team volunteers with Safe Haven, a program dedicated to ending family violence through prevention and education programs. Safe Haven supports victims of domestic violence and their children through the provision of emergency and community-based services. Branch Manager Rhonda Busby and her team participate in various local service projects to support the organization and most recently provided school supplies for children living in the Safe Haven facility. The team presented school supplies, backpacks, lunch boxes, and headphones to the organization.
The Corey Cantrell Team partnered with Habitat of Northeast Georgia's "Women Build 2022" project. This build recruits and empowers women of all ages and backgrounds to come together in the name of building homes and changing lives in their community. The team was able to raise $6.9k for the project. Their group did various duties, including painting, moving and hanging doors, laying new flooring, and installing trim and baseboards. The experience was a new but fulfilling one, and they were truly honored to have contributed to the construction of a family's new home!
Now we challenge you to make a difference in your community.
#HOMESTARCares