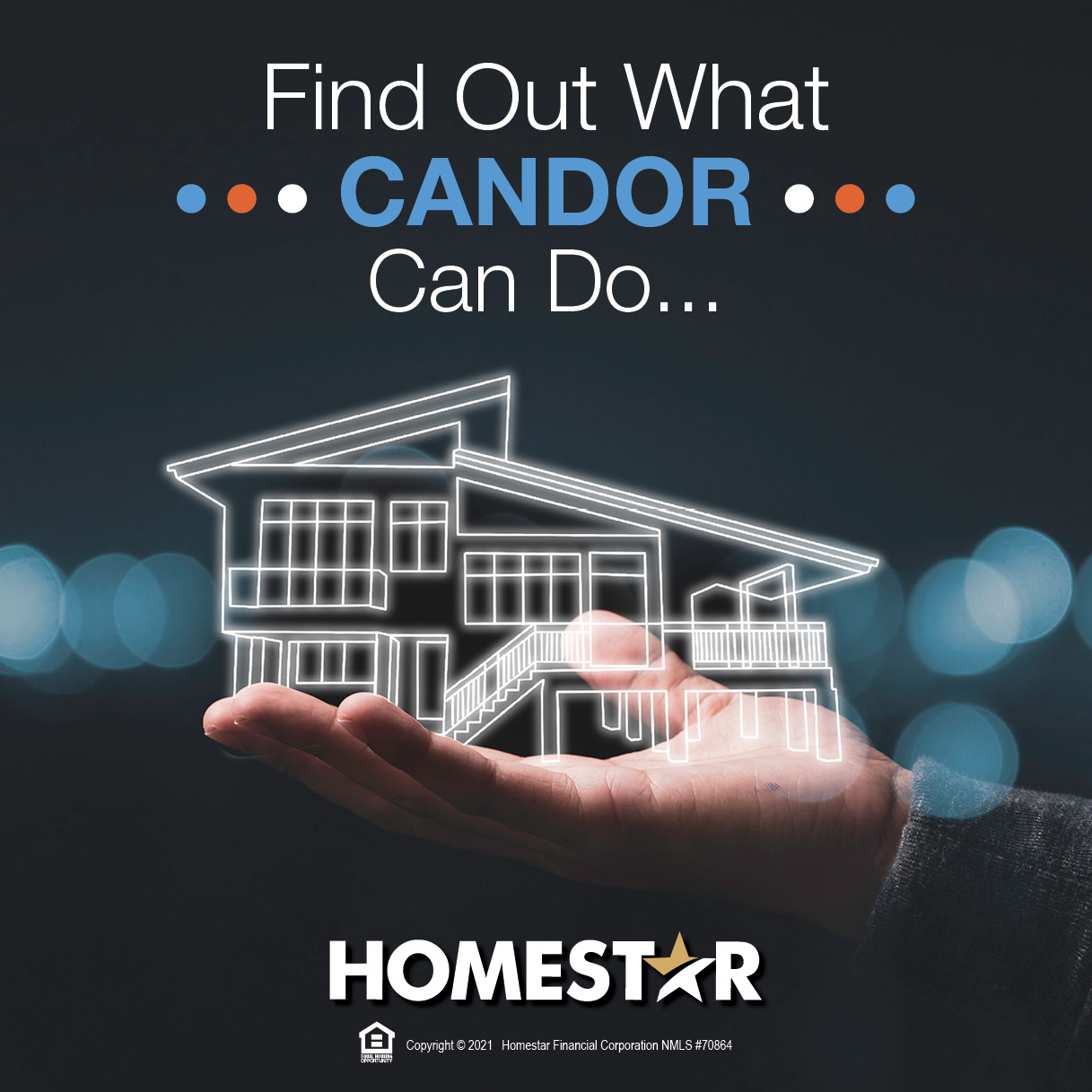 FOR IMMEDIATE RELEASE:
HOMESTAR Announces Implementation of Candor
GAINESVILLE, GA (November 8, 2021) – HOMESTAR, a Top Mortgage Purchase Lender Nationwide, announces the implementation of Candor, a platform that helps automate decisions around income, assets, and lending to increase productivity. HOMESTAR is one of the first five companies to implement Candor's underwriting technology.
Candor works with loan data and documentation to issue loan decisions. From calculating income to identifying appraisal requirements, Candor is providing efficiency in areas that are very time-consuming for Processors and Underwriters. Currently, Candor's technology is only available for Conventional loans. However, Candor is not only continuing to expand within its Conventional loan abilities, but it is also looking into government loans.
"Candor's technology is going to change the way we do loans at HOMESTAR for the better. This tool is undeniably the answer to efficiency, transparency early in the loan process for what is required for the specific loan scenario, and a shorter transaction period. Candor CAN DO," said Amber Price, Underwriting Operations Specialist at HOMESTAR.
Candor will be fully rolled out by January 1, 2022, where all of HOMESTAR's Conventional loans will have Candor findings and conditions in its files.
About HOMESTAR
HOMESTAR is a full-service mortgage banker controlling every aspect of the loan process with in-house processing, underwriting, closing, and funding of each mortgage transaction. Having an in-house team separates HOMESTAR from other mortgage companies because it is easier for HOMESTAR mortgage lenders to communicate quickly and effectively with every department needed to close a transaction.
HOMESTAR offers a variety of home mortgage solutions, including Conventional, FHA, USDA, VA, Jumbo, 203K, refinancing, RefiNow™ program, Cash Advantage program, NATURALiving Home Mortgage program, and more.
HOMESTAR's purpose is to maintain a strong reputation as an honest mortgage company offering outstanding customer service, exceptional community relationships, and a high level of employee satisfaction. HOMESTAR strives as a company to meet the needs and wants of its customers, ensuring their arrival at "the easiest way home."
Contact:
HOMESTAR
Email: [email protected]
Phone: (770) 503-0380
www.homestarfc.com
###