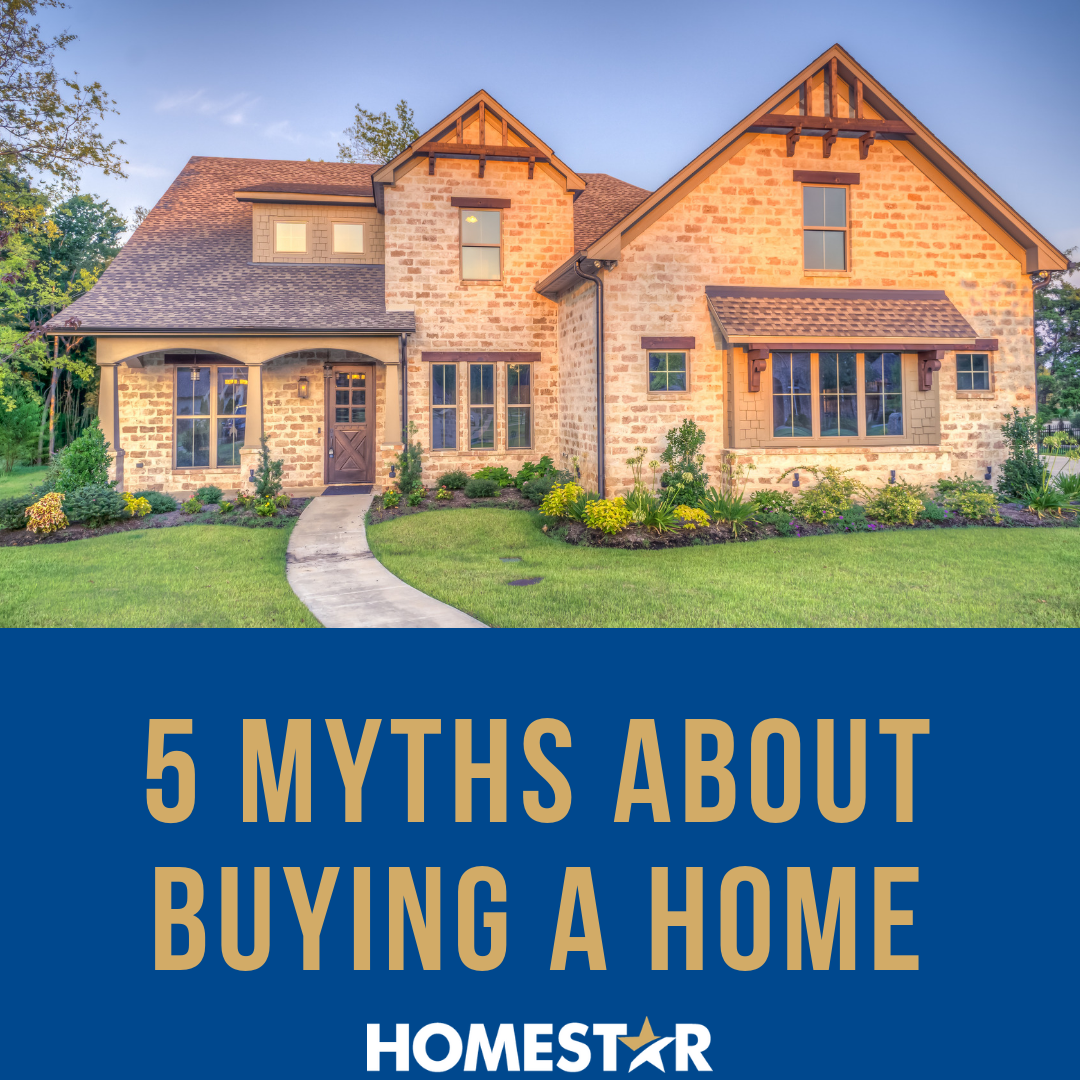 Ready to take the leap from renter to homeowner? Buying a home is an exciting time, but many potential homebuyers are hesitant due to common misconceptions. Don't let these keep you from the personal and financial rewards of homeownership. Don't think that buying a home is impossible – in fact, it's very possible!
We debunk these common homebuying myths:
Myth #1: Your credit must be perfect to buy a home.
Don't worry; a lower credit score does not automatically disqualify you from getting a loan. Many factors are taken into account, such as your income, debts, assets, and employment history. And, although there is no "quick" fix when it comes to boosting your credit score, you can follow these 7 tips to help improve your credit score over time.
At HOMESTAR, we will work hard to find the right loan for you based on your unique situation. We offer many loan programs, including FHA, Conventional, VA, Reverse, Jumbo, and 203K as well as refinancing.
Myth #2: You need a certain amount of money in your savings.
Generally, it's a good idea to have a decent amount of money stored away in your savings to help with a down payment, closing costs, and to have available in case of an emergency. However, there is no set amount you need in your savings account to apply.
Here are some tips to help on your way to saving for that down payment, the closing costs, and more:
Review your finances and set long-term financial goals for yourself
Look into other repayment options to see how you can pay off your loan(s) faster
Try to offer more than the minimum payment each month on your loan(s)
Look into a side gig to bring in some extra cash
Cut back on unnecessary purchases and only spend money on things you need
Set up your bank account to move money into your savings account each month, and don't touch it
Myth #3: It is less expensive to rent.
Renting and buying both have their benefits and, depending on your situation, one might be a better option for you than the other.
Buying offers the possibility of lower monthly payments and your monthly principal and interest payments will stay the same for the life of a fixed-rate mortgage. In addition, owning a home allows you to build equity, which is wealth you can use to reach your financial goals!
Be sure to check out our blog post comparing renting vs. buying a home – this will help you determine which may be best for you.
Myth #4: A 30-year loan is the best option.
Although many first-time homebuyers elect for a 30-year mortgage, it's not the only option worth considering. A 15- or 20-year home loan provides a great way for you to spend less money on interest. You just want to make sure this option works well for your budget. A shorter loan term does mean higher monthly payments, but your interest will be lower.
Myth #5: A 20 percent down payment is mandatory.
Generally, the more money you put down on a home the better off you will be in the end. While 20 percent is considered the ideal amount – as you will have less to pay back and you will not be spending as much on interest over the life of the loan – it is still possible to secure a loan with less. FHA loans require a 3.5 percent down payment and VA and USDA loans require no down payment.
We hope debunking these myths helps to ease your worries in regards to thinking about purchasing a home.
Have additional questions? Check out our three-part Q&A series, Part One, Part Two, and Part Three, that answers common questions from borrowers throughout the loan process.
For more information about HOMESTAR's available loan programs, click here.