Stacey Jones is a seasoned mortgage professional with over 33 years of experience in the industry. She began her career as a temporary employee in the post-closing department at The Mortgage Source. Three days after her start date, they asked her to join full-time. She then quickly rose through the ranks and touched many aspects of the mortgage banking industry. Stacey's expertise in the field has enabled her to serve in various roles, including processing, closing, secondary marketing, and as a Mortgage Loan Originator.
She has spent the last seven years as the Division Operations Manager for the Lobo Division at HOMESTAR. Previously, she processed loans for Branch Manager Keith Howell in the Buford branch for six years. She is excited to celebrate 13 years of working with HOMESTAR in October 2023.
Stacey's professional superpower is her passion for helping others. She finds immense satisfaction in providing support to staff and helping first-time homebuyers navigate the complex process of obtaining a mortgage.
"Personally, my husband is my hero. He is my voice of reason. He is steady as a rock and keeps me grounded," said Stacey Jones talking about what leaders encourage her. "Professionally, I truly try to mirror my current manager, Gus Lobo. He manages with integrity, gratitude, and has a servant's heart.  I came across this quote recently and saved it as it reminded me of Gus. The Bible mentions 'Leader 6 times, servant 800+ times. The greatest leaders aren't out there chasing titles, platforms, recognition, or the next big promotion. The greatest leaders are looking for opportunities to serve.'"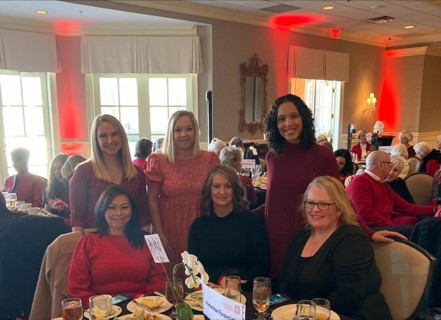 Outside of work, Stacey is an active member of her community. She is part of the American Heart Association's (AHA) "Circle of Red for couples," which helps to fund research and education on women's heart health. Stacey and her husband, Billy, are dedicated and make a yearly financial commitment to the organization. She also serves on the Executive Leadership Team, organizing events, and securing donors for the organization's yearly fundraiser.
"In 2018, I was invited by HOMESTAR to attend the American Heart Association Annual Luncheon.  HOMESTAR sponsored a table for this event, too," said Stacey at the beginning of her relationship with the AHA. "There, I learned about women's heart health. Heart disease is the number one cause of death for women in the U.S."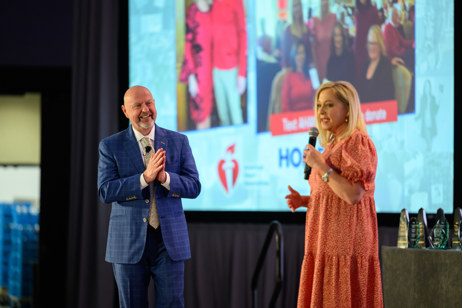 At HOMESTAR's 2023 Annual Award Ceremony & Ball, Stacey was invited to the stage to talk about the AHA with Wes Hunt, HOMESTAR's Founder and CEO. This event was a time to celebrate the achievements of fellow employees and teams. Everyone's hard work and commitment to excellence are the driving force behind HOMESTAR's success as a company.
During her segment, Stacey was awarded HOMESTAR's 2023 Wayfinder Cultural Award, Bright Star. This individual award is for community leadership. She exemplifies HOMESTARCares initiatives in and outside of the office through their community service work, serves as a role model for compassion and service that has made a lasting and meaningful impact in the community, and contributes to the community through time, actions, and dedication to one charitable organization or a variety of volunteer activities that go above and beyond the call of duty for the year.
When it comes to advice for those entering the mortgage industry, Stacey emphasizes the importance of learning as much as possible and taking advantage of slow periods to strengthen skills and knowledge.
"I always say the mortgage industry is hills and valleys. When times are good, put back as much as you can. When times are slow, utilize that time to strengthen your knowledge and sharpen your skills," said Stacey about the mortgage industry. "You will never be able to know every aspect of the mortgage industry because it's ever-changing. But knowing where to go to find your answers are the key to being productive in your mortgage career."
To Stacey, success is not defined by a title or a dollar sign, but by the journey throughout life. For her, success means accepting imperfections, treating everyone with the same level of respect, and being grateful for the blessings of family. Stacey's dedication to her work, family, and community has earned her admiration from many, and her inspiring story serves as an example of what one can achieve through hard work and a commitment to helping others.